2014 European Junior and Young Riders Championships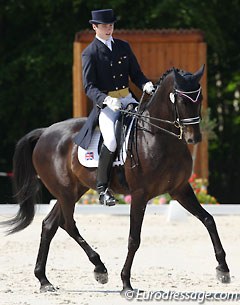 After a final national observation trial in Wellington, Great Britain, the British Dressage selectors were able to make a final decision on the teams that will represent Great Britain at the 2014 European Championships for Juniors and Young Riders in Arezzo, Italy, on 11 - 15 July 2014.
The selectors were notified that Charlotte Fry's number one horse, Leslie Connor and Christine Graham's Remming was not eligible for selection following a minor injury which will keep him out for the remainder of the season.
The Chefs d' Equipe are Anne Keen (Junior) and Cara Hayward (Young Rider) and the veterinarian for both teams is David Rowlands.
The British Junior Team includes:
Charlotte Fry (18) with Rosemary Shewen's Z Flemmenco (bay, gelding, 16.2hh, 10yrs, s. Flemmingh)
Jessica Gale (18)  with her own Umbro S (chestnut, gelding, 16.3hh, 13yrs, s. Jazz)
Maisie Scruton (17) with her own Hot Chocolate  (dark bay, mare, 16hh, 17yrs, s. Sandro Hit)
Erin Williams (16) with Claire Williams' Fleurie (liver chestnut, mare, 17hh, 14yrs, s. Florestan I) (pictured)

First Reserve: Rebecca Edwards (17) with Margaret Cox's Ufano II (grey, stallion, 15.2hh, 13yrs, s. Indeciso
Second Reserve: Joanna Thurman-Baker (16) with her own San Piko (dark bay, gelding, 16.3hh, 13yrs, s. Sandro Hit)
The British Young Riders team includes:
Philippa Hutton (20) with Pammy Hutton's Belmondo III (bay, gelding, 16.1hh, 13yrs, s. Bernstein)
Olivia Oakeley (21)  with her own Donna Summer (chestnut, gelding, 16hh, 13yrs, s. Dimaggio)
Samantha Thurman-Baker (21)  with her own Highcliffe Apollo (bay, gelding, 16.2hh, 12yrs, s. Der Lenz
Ryan Todd (21)  with Julie Todd's Charlex Eskebjerg (dark bay, gelding, 16.2hh, 13yrs, s. Carano)

First Reserve: Jessica Knapton (19) with her own Di Spirito (chestnut, gelding, 16.1hh, 14yrs, s. Dimaggio)
Second Reserve: Gaby Lucas (18) with her own Laurentius II (bay, gelding, 18.1hh, 16yrs)
Photo © Astrid Appels
Related Link
Eurodressage Coverage of the 2014 European Junior/Young Riders Championships