2014 Preis der Besten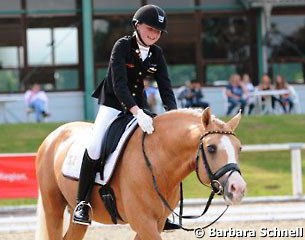 Pony rider Semmieke Rothenberger, junior rider Anna Christina Abbelen and young rider Sönke Rothenberger were the big winners of the 2014 Preis der Besten, the inofficial German youth riders championships, held annually in Warendorf, Germany. This year's edition, which took place on 24 - 25 May 2014, brought many new aspiring German team candidates to the fore.
The Preis der Besten is an important first selection trial for German team selection for the summer's European Pony, Junior and Young Riders Championships. The second selection trial for pony riders is at the 2014 CDI Wiesbaden, to which 15 combinations have been invited. The junior and young riders have their second trial in Hagen.
In the pony division, Semmieke Rothenberger proved once again that she is unbeatable, claiming her third consecutive Preis der Besten title. Aboard the palomino stallion Deinhard B (by Dornik B), she scored 77.991% and 78.699%. With her mare Golden Girl she was second with 73,590% and 75,976%. As one can claim a medal only with one pony, the silver went to 15-year old Celine Konig on the 7-year old Daddy's Daydream. She finished fourth (72.991%) and third (75.081%) in the two rounds.  The bronze went to 16-year old Maike Mende on the Desert Rose (by Don't Worry) with 72.991% and 73.008%.
Abbelen In Front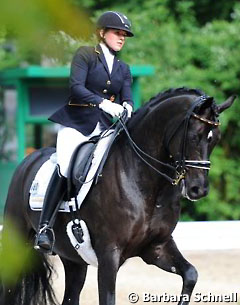 The 17-year old Anna Christina Abbelen has moved herself into first place as ruling German junior rider in the absence of Johanne Pauline von Danwitz who lost the ride on her European junior riders' champion Habitus to Luca Michels. Trained by Heiner Schiergen, Abbelen and her 9-year old Furst  on Tour (by Furst Heinrich) reigned supreme twice with 76,486% and 76,816%. The silver went to 18-year old Ellen Richter on the 9-year old mare Fontane (by Florestan). She finished second twice with 73.622% and 73.447%. Team routinier Jessica Krieg earned bronze aboard Special Edition (by Sir Donnerhall I) with 72.919% and 71.947%.
German junior team trainer Hans Heinrich Meyer zu Strohen praised Abbelen for the way "she conducts top sport with pleasure and discipline. What is so outstanding is the security with which she takes these top scores. Anna Christina simply has a plan for the way a test goes. Ellen Richter was very successful with her young horse and step by step she worked the mare forwards in quietness. She could be a bit more energetic though, but the contact was text book. Jessica Krieg improved much during the winter training and was very consistent in Warendorf."
Sönke Rothenberger Storms to the Top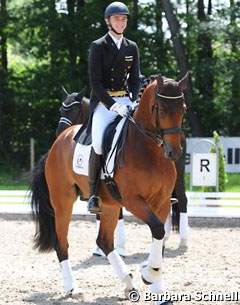 In the Young riders division, 19-year old show jumper-gone-back-to-dressage Sönke Rothenberger stormed to the top with his 7-year old Dutch bred Cosmo (by Van Gogh x Fruhling), winning both rounds with 74.421% and 74.158%. Rothenberger was doing double duty in Warendorf as he also contested the Preis der Besten in show jumping and finished 21st with his mare Liza Minelli in the jumping Young Rider division.
Silver and bronze went to 2013 German team riders Vivien Niemann and Juliette Piotrowski. The 20-year old Niemand  was second and third on Cipollini (71.605% and 73.132%), while Piotrowski and Sir Diamond (by Sandro Hit) got bronze for her 71.342% and 73.132% earning tests.  Team rider Florine Kienbaum was well on her way to the podium with Don Windsor but on Sunday the rider had to call in sick with tonselitis.
"Sonke is truly a phenomenal young rider," Meyer zu Strohen commented. "He really found a connection with this special horse. The canter tour was outstanding. Niemann produced a very constant performance and Piotrowski stood out with very accurate riding and a strong walk tour."
The Preis der Besten was the first team selection trial for the German Juniors and Young Riders. Their second will be in Hagen in June.
Text by Astrid Appels/FN - Photos © Barbara Schnell
Related Links
Scores 2014 Preis der Besten
Rothenberger, Abbelen, Niemann Win 2014 Preis der Besten Qualifier in Kronberg
Pony Riders Selected for 2014 Preis der Besten Qualifiers
Junior and Young Riders Nominated for 2014 Preis der Besten Qualifier in Kronberg
Eurodressage Preis der Besten Coverage, since 1999!
Photo Report: Rothenberger, Von Danwitz, Niemann Win 2013 Preis der Besten Title
Rothenberger, Niemann, Schurmann Win 2012 Preis der Besten
Linnemann, Schutte, Luttgen Win 2011 Preis der Besten
Photo Report: Krieg, de Ridder and Lutkemeier 2010 Preis der Besten Champions
Rothenberger Kids and Sieber Win 2009 Preis der Besten
Photo Report: 2008 Preis der Besten
Photo Report: 2007 Preis der Besten
Photo Report: 2006 Preis der Besten
Scores: 2004 Preis der Besten
Scores: 2003 Preis der Besten
Scores 2002 Preis der Besten
Torloxten and Giesen In the Picture at 2001 Preis der Besten
Scores: 2000 Preis der Besten
Kroncke, Kroncke and Maiwurm Win 1999 Preis der Besten