British Dressage News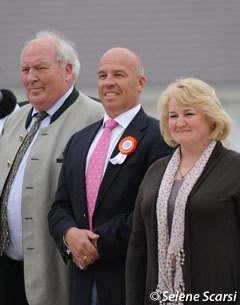 British 3* judge Peter Storr made his international judging debut at the CDI-JYR Ryazan in Russia  on 9 - 11 May 2014. The rider and trainer, who started judging nationally seven years ago whilst representing Great Britain in competitive sport, has now made his international judging career a priority.
"I've decided to take my judging more seriously; I want to judge internationally, so my international riding career has now been put on hold and I am concentrating on international judging. It's something that I really like doing: I find it really stimulating and interesting, and I think judging at this level is quite challenging, because obviously standards can vary quite a lot."
"This was a perfect debut. It's lovely to be in Russia. It's very exciting and a little bit scary, being my first time, but I've really enjoyed it: the facilities are very good, the surfaces great, it's an exceptional place and there are some very nice horses," said Peter. "It's a very good experience for the up-and-coming judges," chipped in fellow judge Wojtek Markowski.
In Ryazan Peter judged both junior and young rider classes and was president of the ground jury in Saturday's junior individual test, in a weekend of competition with a very solid judging panel and consistently spot-on judging throughout.
Text and Photos © Selene Scarsi
Related Links
Scores 2014 CDI-JYR Ryazan
Hester and Storr Take Saturday's Titles at the 2013 British Dressage Championships
Peter Storr and Belmondino Shine in Thinned Out Field at 2013 CDI Addington
Barrett and Storr, New Trainers for British Under-21 Teams