German Dressage News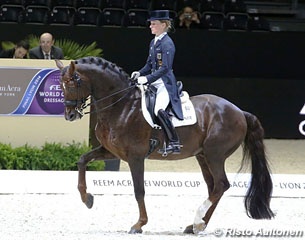 Germany's number one dressage duo, Helen Langehanenberg and Damon Hill, have received a bye from the German Olympic Equestrian Committee (DOKR) in order not to compete at the first mandatory WEG selection trial, the 2014 German Championships in Balve.
Helen and Christian Becks' 14-year old Westfalian licensed stallion Damon Hill finished second at the 2014 World Cup Finals in Lyon, France, two weeks ago and they have proven sufficient form.
The 2014 German Championships in Balve on 15 - 18 May 2014 are a mandatory show for all A and B-team riders, but the dressage selection committee of the DOKR decided that Langehanenberg does not have to compete Damon Hill there.
"During the World Cup season and with his outstanding second place in the Finals in Lyon, Damon Hill has more than proven his form," said Klaus Röser, chair of the dressage committee. "Because the stallion is also used a lot for breeding, we decided to offer him a longer break from competition."
German team trainer Monica Theodorescu concurs with this decision. "The season is still long. The dressage classes at the World Equestrian Games are at the end of August and Damon Hill will still appear at the selection trials in Perl-Borg and Aachen."
Photo © Risto Aaltonen
Related Links
Eurodressage Coverage of the 2014 World Equestrian Games
Dujardin and Valegro Dance to 2014 World Cup Glory
2014 Helen Langehanenberg Clinic in Berne: "Dare It, It's Only Training!"
Helen Langehanenberg is First Violin at 2013 German Dressage Championships
Helen Langehanenberg, Queen of 2013 CDIO Aachen