2014 CDI San Juan Capistrano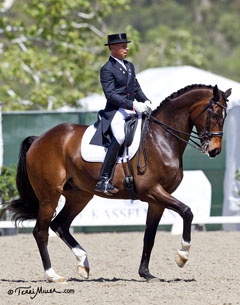 Hopeful U.S. Team members for this summer's World Equestrian Games had their second week of dressage competition at the Rancho Mission Viejo Riding Park in San Juan Capistrano, California on 27 - 31 March 2014. Steffen Peters and Jan Ebeling aced the big tour classes with solid scores in the seventy percentage range.
Steffen Peters Proves To Be the Best in Both Large and Small Tours on First Day 
While top riders Steffen Peters, Jan Ebeling, and Kathleen Raine have already earned the necessary qualifying scores for June's WEG Selection Trials in Gladstone, all three competitors seized the opportunity to gain additional ring time and "tune up" their mounts for the demands of the coming months.
Adding to their already-long list of accomplishments, the number one-ranked rider/horse combination in the country Steffen Peters and Legolas, a 12-year-old Westfalen gelding [by Laomedon x Florestan II] owned by Four Winds Farm) celebrated another CDI Grand Prix win with a top score of 73.600%.
"The overall quality of the class was outstanding, but unfortunately we did see some mistakes today," explained President of the Ground Jury Lilo Fore (5* USA).  Peters' 2012 London Olympic Games team mate Jan Ebeling with the 17-year old Rafalca (by Argentinus x Rubinstein) earned 69.500% to edge out Kathleen Raine and Breanna (69.440%) for second place.  "She felt awesome, she's always better off of a break and seemed happy to be back in the ring," Ebeling said of Rafalca, who returned to competition for the first time since last fall.  "She knows her stuff by now and that makes it very fun.  She has such a good heart."
 
In the small tour, up-and-coming young stars ruled the day.   With an elegance and maturity beyond her years, Four Winds Farm's new prodigy Rosamunde (by Rock Forever x Fidermark) remained undefeated in her division by winning the Prix St. Georges Test on a score of 72.281% in the expert hands of U.S. Team veteran Steffen Peters. 
The win wasn't easy - the top four placings all earned scores over 70% in what judge Jane Weatherwax (4* USA) described as a "very, very strong class" - but Peters was impressed with his young mount's performance.  "She was even more relaxed than last week, and right from the start she was great," he noted.  "The changes felt even more secure than before, and everything else was very solid."  Second-place finisher Charlotte Jorst was equally delighted with her young Dutch Warmblood stallion Vitalis (by Vivaldi).  The 2013 national six-year-old champion appeared quite comfortable with the move to the  Prix St. Georges level, earning a score of 71.228%.  "It was so much fun today, and I'm thrilled," said Jorst.  "It all comes very easily for him, and even though this is our second week of competition, he still feels fresh."
San Diego's Anna Buffini continued her domination of California's Young Rider division as she once again topped the field in the Team Prix St. Georges Test, riding her 15-year-old Dutch Warmblood gelding Sundayboy (by Kennedy x Zevenaar) to a score of 69.561%.  Finishing with reserve honors was Catherine Chamberlain and Verdicci (by Krack C x Jackson) with 66.404%.  Rounding out the CDI, Canada's Hannah Beaulieu claimed her second straight Junior Team Test win with Nancy Olson's Rheinlander gelding Pharoah (by Fidermark) on a score of 59.550%.
'Solid' Performance Gives Jan Ebeling the Win in Grand Prix Special on Second Day
The Grand Prix Special Test became a hard-fought battle for top honors on the second day of competition.  The right to claim the blue ribbon came down to hundredths of a point as 2012 London Olympic U.S. Team member Jan Ebeling and Rafalca earned 71.294% to narrowly maintain the lead over former World Equestrian Games Bronze medalist Kathleen Raine on Breanna with 71.235%.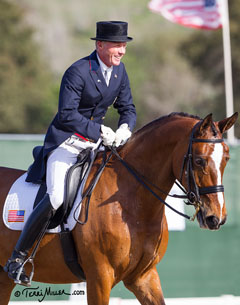 "Today we some very solid performances from the top two as well as a couple promising new combinations, and that made it a fun class to judge," noted FEI judge Jane Weatherwax (4* USA).  "Everyone looked more committed today and had fewer mistakes.  Breanna looked really 'on' today, and Rafalca's piaffe is just wonderful.  Jan (Ebeling) handles the pressure of competition well and Rafalca is very solid."  Ebeling was thrilled with the consistent performance of his 17-year-old Oldenburg mount, owned by Amy Ebeling, Anne Romney, and Beth Meyers.  "She was super and I was very pleased with our test.  I remember a few years back when we really had to work for the piaffe and she could only do a few steps at a time, and now I can take my leg off and she's just a machine.  It makes me happy to think about how far we've come." 
The afternoon's Intermediaire I Test turned into a sweep for Team Peters, as Steffen Peters rode away with the top two placings aboard Four Winds Farm's Rosamunde and Tracy Roenick's eight-year-old black Oldenburg mare Apassionata (by Sir Donnerhall x Friedenfurst) on scores of 75.833% and 71.842%, respectively.  In addition, Peters' assistant trainer Dawn White-O'Connor earned 71.447% aboard Carla Hayes' nine-year-old Dutch Warmblood Aristo (Olivi x Krack C), good enough for third-place honors.
"When you have a horse like Rosie that's so willing, supple, elastic, and good in the contact, it's a thrill to ride," said Peters.  "Usually you get that when they're eight or nine years old, but for her to be like this at seven is incredible.  Pia (Apassionata) is getting better and better, especially in her trot work - she's taken a giant leap forward from her CDI debut last month in Burbank.  And like last week, Dawn almost caught me again with Aristo.  I'm so excited for her to be doing so well with him."
Anna Buffini's collection of blue ribbons continues to grow as she once again topped the Young Rider Individual Test with a score of 72.018%.  "He's such a hard worker, and even though he was a little more tired this week he gave me his best," said Buffini of her 15-year-old Dutch Warmblood gelding Sundayboy (Kennedy x Zevenaar).  "The Individual Test is more compact with a of movements happening very quickly, and it's tough because Sundayboy is a big horse, but I like the challenge."  Finishing second was Catherine Chamberlain and Verdicci (Dutch Warmblood gelding [Krack C x Nadine's Monday by Jackson]) with 69.386%.  Meanwhile, Hannah Beaulieu of Canada improved upon her previous day's performance to earn 65.044% with Pharoah (by Fidermark x Worldchamp) in the Junior Individual Test.
Special qualifying classes were also held for the Young Talent Search.  In the four-year-old division, Sean Cunningham rode Hilda Gurney's Trakehner gelding Lotta Silver (by Silvermoon) to top the leaderboard on a score of 75.625% in Training Level Test 1.  Catherine Chamberlain rode her own Westfalen mare Sophina (by Spielberg) to win the five-year-old First Level Test 1 class with 74.655%, while the six-year-old Hanoverian gelding Prime Time SF (by Pablo) carried owner/rider Marisa Festerling to victory with 74.286% in Second Level Test 1.
Steffen Peters Earns Nation's Highest-Scoring Grand Prix Freestyle on Final Day
Steffen Peters and Legolas, the number one-ranked Grand Prix rider/horse combination in the country, "wowed" not only spectators but also the judges on their way to dominating the Grand Prix Freestyle on the final day of the 2014 CDI San Juan Capistrano.  Their score of 79.425% gave Peters and Four Winds Farm's 12-year-old Westfalen gelding (by Laomedon x Florestan II) not only the win, but also the highest CDI Grand Prix Freestyle score by an American this year as they look to lead the U.S. Dressage Team to the 2014 World Equestrian Games in Normandy, France this summer.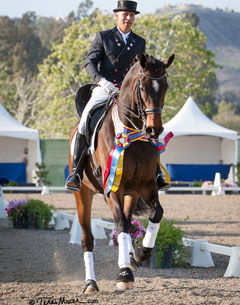 "We were right on the money today, every beat and footfall was right there," explained Peters.  "That's how I like to ride freestyles and I think Legolas liked it too.  We got clean changes today right off the bat and I felt like I was able to take a deep breath and really enjoy the rest of the test."
The ground jury consisting of Eddy de Wolff van Westerrode (5* NED), Lilo Fore (5* USA), Jane Weatherwax (4* USA), Maria Schwennesen (4* AUS), Brenda Minor (4* CAN) enjoyed Peters' freestyle as well.  "What I appreciated was the degree of difficulty of the test while remaining in perfect time with the music," noted Fore, who will be a member of the judging panel for this year's WEG.  "The fantastic  harmony they show between horse and rider makes you want to give them a good score."  Judge Brenda Minor agreed.  "For the whole freestyle, I felt they were telling a story," she said.  "By the time they were done, I just wanted to stand up and cheer."
Earning reserve honors was Michelle Reilly with Sharon Roberts' 13-year-old gray Dutch Warmblood gelding Umeeko (by Goodlord x Jacorde) on a score of 71.025%.
In the Intermediaire Freestyle, Elizabeth Ball and Cadence LLC's nine-year-old Dutch Warmblood gelding Avanti (by Tuschinski x Naturel) made their freestyle debut a winning one with a score of 73.708%.  Ball is seeking an invitation for the U.S. Intermediaire I National Championship at the Festival of Champions in June, and was pleased with her mount's effort.  "When we started two years ago he barely had a single flying change," she explained.  "But he's getting stronger and more confident with every show.  Even though I've ridden in many championships I've never been to Gladstone, so I'm very excited to hopefully qualify to go."  Finishing in second with 69.458% was Colorado's Allison Dechant Nimmo riding Rufus (Westfalen gelding by Roh Magic, owned by Deborah Carter).
After a couple of years away from the Young Rider division, Catherine Chamberlain is looking to return to the North American Junior and Young Rider Championships (NAJYRC) for the fourth time as part of the Region 7 Team with her own 12-year-old Dutch Warmblood gelding Verdicci (by Krack C x  Jackson), a horse she's developed since he was just five.  "It's great to bring it back out again because I have so much fun with it," said Chamberlain of her Harry Potter-themed freestyle.  "My horse is so steady and consistent now, and it makes me very confident in our tests.  He's such a super horse and he likes to show, so it's fun for both of us."
Canadian Junior Rider Hannah Beaulieu drove 25 hours with her family to compete in San Juan Capistrano and continued to improve her scores towards hopeful qualification for the NAJYRC in Kentucky aboard Nancy Olson's Rheinlander gelding Pharoah (by Fidermark) with a Freestyle score of 68.042%.  "I've never experienced a show like this, and I've learned so much here," she said.  "I learn more about myself and my horse with every ride.  Today Pharoah felt really, really good, and I'm satisfied."
Text by Jennifer Keeler, edited by Eurodressage
Photos © Terri Miller
Related Link
Scores 2014 CDI San Juan Capistrano