German Dressage News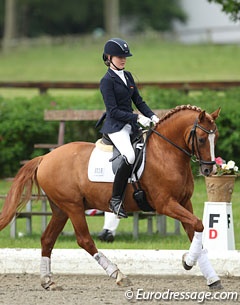 The German Equestrian Federation has announced the pony riders that have been nominated to compete in the two 2014 Preis der Besten qualifiers for FEI Pony Riders. They will be held in Kronberg on 5 - 6 April 2014 and in Vechta one week later on 12 - 13 April 2014.
The 2014 Preis der Besten is the inofficial German youth riders championships and is held each year in Warendorf. The 2014 edition takes place on 23 - 25 May 2014. The show counts as an important qualifier for German team selection for the 2014 European Pony Championships.
Based on the performances of the pony riders at regional shows as well as at the training seminars with the regional team trainers, the following pony riders have been selected to participate in the Preis der Besten qualifiers
Pony riders for Kronberg:
Jana Schlotter - Stukhuster Ricardo Go For Gold and Dorn
Lisa Marie Winkenbach - Steendiek's Dollarprinz
Lea Brummer - Fruhlingstraum
Eileen Henglein - Der Feine Lord
Selinz Söder - Schapur
Nadine Krause - Danilo
Liselott-Marie Linsenhoff - Massimiliano and Equestricons Lord Champion
Lana Raumanns - Den Ostriks Dailan and Djaufaila
Semmieke Rothenberger - Deinhard and Golden Girl or Paso Doble
Tabea Schroer - Voyager
Inga Katharina - Day of Whisper
Julia Barbian - Die Feine Chanel
Linda Erbe - Dujardin
Helen Erbe - Daylight
Paulina Holzknecht - Carlos
Celine König - Daddy's Daydream
Anouk Wiemers - Charly Brown
Raphael Netz - Schierensees Don't Do It and Holsteins Gentlemann
Alin Schneider - Night Magic
Pony riders for Vechta:
Lea Luise Nehls - De Long
Vivien Koecher - So Ein Gluck
Sophie Dupree - Nacro's Dancer
Louise Marie Engelke - Grenzhoehes Ivory
Nadine Falke - Carlchen P
Vivien Lou Petermeier - Don Dai Quiri or Designer
Jacob Schenk - Cinderella M
Nazila Natasha Lotz - Petit Marc Aurel
Anna Schölermann - Caspari HE
Kim Burschik - Now and Forever Feivel
Luna Laabs - Dow Jones
Maike Mende - Desert Rose or Nobel Nagano
Anna Lena Vosskotter - Steverheides Wulkano or Uniek
Kathrin Wacker - Moglie
Ninya Wingender - Nickelback
Katharina Ottenwess - Mondsilber
Celina Schlüter - Bocelli
Marlen Schramm - Popcorn
Helen Wempe - Syriana
Photo © Astrid Appels
Related Links
Junior and Young Riders Nominated for 2014 Preis der Besten Qualifier in Kronberg
Maike Mende In Front at 2014 Preis der Besten Qualifier in Verden