FEI Dressage News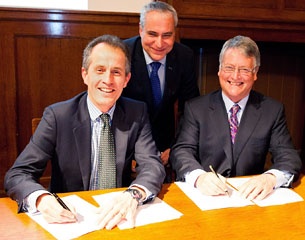 World Horse Welfare, the international horse charity, has become the fourth of the former FEI Associate Members to sign a Memorandum of Understanding (MOU) with the FEI.
The FEI has collaborated with World Horse Welfare for over 30 years, developing the FEI Equine Welfare Code of Conduct, funding sport horse development projects through its FEI Solidarity initiative, and working together on animal health projects including reducing journey times to competitions, cooling techniques at events and studies into training and competition surfaces.
World Horse Welfare, founded in 1927, focuses on improving the lives of horses around the world through education, campaigning and hands-on care. HRH Princess Anne, The Princess Royal, who is President of the British Olympic Association and International Olympic Committee member, has been President of World Horse Welfare since 1994.
British Eventing Olympian Pippa Funnell is a trustee of the charity, and China's first Olympic Eventing athlete, Alex Hua Tian, is also now a World Horse Welfare ambassador as part of the charity's recently-launched patron scheme to harness the growing support of recognised figures in and out of the equestrian world, and to help create a wider awareness of the charity's far-reaching work and its impact.
The Memorandum of Understanding was signed by FEI First Vice President and Chair of the FEI Veterinary Committee, John McEwen, and World Horse Welfare Chief Executive Roly Owers at last week's 22nd National Equine Forum in London (GBR), which brought together a panel of prestigious speakers from Government, welfare, veterinary science and equestrian sport.
FEI Secretary General Ingmar De Vos addressed the forum on the global growth of equestrian sport and how the FEI's partnerships with key organisations, including the World Organisation for Animal Health (OIE) and the International Federation of Horseracing Authorities (IFHA), has assisted in that expansion.
"The FEI has been collaborating with World Horse Welfare for over 30 years and in that time we have reached numerous milestones together", Ingmar De Vos said. "World Horse Welfare is a charity that believes in taking practical approaches to finding solutions and working constructively to create change, and for these very reasons the FEI is looking forward to many more years of close collaboration as our sport grows around the world."
"We are pleased to agree this MOU with the FEI, which recognises World Horse Welfare as the leading international independent welfare organisation, and supports our mission to work with horse owners, communities, organisations and governments to help improve horse welfare standards and stamp out suffering worldwide", explained Roly Owers, Chief Executive of World Horse Welfare
"Our charity has worked constructively with the FEI for more than 30 years to support the responsible use of horses in sport, thus helping regulators to meet their responsibilities to their horses. This is most aptly reflected in the joint production of the FEI Code of Conduct that underpins the welfare of horses in FEI competition."
Related Links
FEI and International Equestrian Organisers Alliance Sign a Memorandum of Understanding
Pippa Cuckson, Recipient of 2013 IAEJ Bureau Award for Outstanding Journalism
Asmyr Reveals Veiled and Unveiled Changes FEI Has in Store