KWPN Breeding News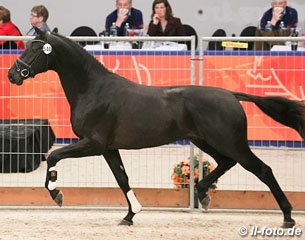 Glamourdale (by Lord Leatherdale x Negro x Ahorn) has been named champion of the 2014 KWPN Stallion Licensing in 's Hertogenbosch, The Netherlands on Saturday 8 February 2014.
Of the 44 colts that were allowed to move on to the third phase of the licensing, the committee accepted a huge group of 40 colts to move on to the 2014 KWPN Stallion Performance Testing, the final phase before obtaining the licensed status to breed.
Six dressage colts out of 40 stallions were invited to the Champion's ring on Saturday afternoon, when the winner of the licensing would be picked. The battle for the title was between Glamourdale and Governor STR (by Totilas x Jazz) and Glamourdale won the title. The black stallion is bred by Joop Rodenburg from Oudekerk aan de Ijssel and he sold as a foal to stallion owner Gert Jan van Olst.  Glamourdale is out of Thuja, a full sister to the Grand Prix stallion Numberto.
Governor STR (by Totilas x Jazz) became the reserve champion. The black stallion, which is bred out of a full sister to Adelinde Cornelissen's Parzival, excelled in freedom but was a bit less brilliant in hand, whereas Glamourdale moved strongly in each phase of the licensing.
Wim Ernes, chair of the licensing committee, commented on his decision: "we took all moments that we saw the stallions into consideration. From the pre-selection to the champion's ring. We carefully weighed it out. It was a really difficult decision who would get the champion's title: Glamourdale or Governor STR.  Glamourdale is from the proven combination Lord Leatherdale x Negro and is a stallion which showed power at all times. He has much length in his body and showed much technique, power and ground cover. Governor is also an athlete. He radiates class and moves with much ease during which he shows his natural qualities and much expression."
The third ranked stallion was Gentle T (by Vivaldi x Biotop), followed by Grande E (by Charmeur x Jetset D), Google (by Bordeaux x Johnson) and Galaxie Terra (by Jazz x Future).
The 40 colts accepted for the 2014 KWPN Stallion Performance Testing are:
Galandro (by Bon Bravour x Donnerhall)
Golden Boy (by Breezer x Special D)
Gobarde E (by Bretton Woods x Scandic)
Guess (by Chippendale x Flemmingh)
Garava (by Chippendale x Scandic)
Guardiola (by Ferro x Farmer) - horse has been renamed into Go-Ferro ter Kwincke
Generation SJ (by Scandic x Jazz)
Gironn L (by Uphill x Ferro)
Gibson (by Jazz x Lingh)
Genesis (by Jazz x Silvano N)
Galaxie Terra (by Jazz x Future) (premium)
Goodman RWP (by Jazz x Lancet)
Guess Who (by Johnson x Rohdiamant)
Goldstar PB (by Johnson x De Niro)
Goliath (by Johnson x Ulft)
Giovanni NB (by Ampère x Lord Sinclair)
Gadget W (by Apache x Uphill)
Gillhaus (by Apache x Lupicor)
Galaxy Win T (by Apache x Jazz)
Gold Boy (by Zack x OO Seven)
Guardiola S (by Bodyguard x Trento B)
Glamour Boy (by Bojengel x Jazz)
Google (by Bordeaux x Johnson) (premium)
Grenoble P (by Bordeaux x Florencio)
Gladstone MH (by Bordeaux x Montechristo)
Charmeur x Jetset-D) (premium)
Gojengel G (by Bojengel x Tuschinski)
nn (by De Niro x Wolkentanz)
Grappa (by Fidertanz x Special D)
Ferguson (by Floriscount x Lauries Crusador xx)
Glamourdale (by Lord Leatherdale x Negro) (premium)
Genesis (by Lord Leatherdale x Metall)
Geronimo d'Hertog (by Rhodium x Gribaldi)
Kissinger (by Singolo x Arogno)
Governor STR (by Totilas x Jazz) (premium)
Gaudi (by Totilas x De Niro)
Toto Jr (by Totilas x Desperados)
Vivaldi x Biotop) (premium)
Gregor (by Voice x Krack C)
Gotcha Utopia (by Ziësto x Uphill)
Photo © LL-foto
Related Links
Forty-four Dressage Colts Selected for Third Phase of 2014 KWPN Stallion Licensing
Seventy-Nine Dressage Colts Selected for the 2014 KWPN Stallion Licensing
Five Dressage Colts Pass Late Pre-Selection for 2014 KWPN Stallion Licensing
Previous Champions
Fierce S, Champion of the 2013 KWPN Stallion Licensing
Etoine, Champion of the 2012 KWPN Stallion Licensing
Diebrecht, Champion of the 2011 KWPN Stallion Licensing
Cover Story, Champion of the 2010 KWPN Stallion Licensing
Bordeaux, Champion of the 2009 KWPN Stallion Licensing
Ajong (aka Ampere), Champion of the 2008 KWPN Stallion Licensing
Zagreb (aka Blue Hors Zack), Champion of the 2007 KWPN Stallion Licensing
Wamberto, Champion of the 2006 KWPN Stallion Licensing
Johnson, Champion of the 2005 KWPN Stallion Licensing
Ustinov and Uptown, 2004 KWPN Stallion Licensing Champions
Tornado, Champion of the 2003 KWPN Stallion Licensing
Symfonie, 2002 KWPN Licensing Champion
First KWPN Select Sale at 2001 KWPN Stallion Licensing
Paddo, 2000 KWPN Stallion Licensing Champion