2014 CDI-W Wellington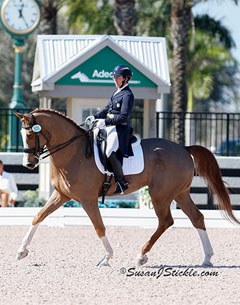 Heather Mason (USA) and Zar finished on top of the Intermediaire Freestyle with a winning score of 72.275% at the 2014 CDI-W Wellington, the kick off CDI of the 2014 Dressage in Florida international show circuit. Second place went to Leida Collins-Strijk (NED) and West Side for a score of 71.150% and Austria's Katharina Stumpf rounded out the top three with a score of 67.000% on Nymphenburg's Love.
Despite a few minor missteps, Mason was overall very pleased with Zar's performance during the test. "I had two little mistakes. One going into the first shoulder-in that he wasn't expecting, so we kind of wavered into it. The other one was the second extended canter. He switched [leads] behind when I brought him back. But he felt great. He was very happy. His changes and his pirouettes were very good," Mason described.
Now that Zar's rideability has been solidly established, Mason will start to work on his expression in preparation for the the CDI-W on January 23-26. "What I need to do is get more power in him still. More power, more expression. He's very consistent. He's very obedient. Now I just need to get a little bit more brilliance out of him," Mason detailed. "I'm going to start working more with piaffe-passage work, which he's done before, but hasn't been a focus," Mason continued. "I haven't really been using it to strengthen his [Prix St. Georges and Intermediaire tests], which I think I need to do."
Mason has developed a close relationship with Zar after riding him for seven years. She broke Zar as a 3-year-old, even showing him in-hand, and the KWPN gelding recently turned 10. "We get along really well. He's a really easy horse to get along with. He's very honest under saddle, as long as you don't act too nervous. That's the biggest thing with him-he's a big chicken!" Mason laughed.
Mason tailors her care for each horse, including a simple routine of lunging Zar simply for 10 minutes before he is ridden. Despite a tendency to feed off any nerves his rider may exhibit, Mason says Zar is a simple ride as long as he gets his morning lunge. Zar has even played schoolmaster for one of Mason's young clients. "I have one junior rider who's been with me for a few years now and she'll ride him on the weekends - but she always lunges him first. She's a fairly timid rider, but she knows how to handle him now. She's learning a lot on him. She does the changes, (and) she's learned pirouettes on him," Mason revealed.
Press release edited by Eurodressage
Photos © Sue Stickle

Related Links
Scores: 2014 CDI-W Wellington
Matute and Lane Take the Blue on Third Day of 2014 CDI-W Wellington
Vilhelmson Captures Kur Victory at Season Opening 2014 CDI Wellington
Vilhelmson Takes First Grand Prix Victory of 2014 Dressage in Florida CDI Show Season