2013 CDI Oldenburg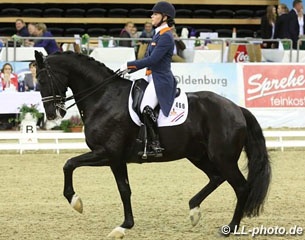 Dutch rider Danielle Heijkoop and her 14-year old Dutch warmblood Siro were in fine form last week, winning the CDI 4* Grand Prix and Special at the 2013 CDI Oldenburg in Germany. The young Dutch duo returned to the show ring since their whirlwind rise as Dutch team members qualifying for the Kur at the 2013 European Championships in Herning in August. 
At the indoor competition of the CDI Oldenburg the duo led  the field with a 73.319% in the Grand Prix and a 73.229% in the Special, twice ahead of German Olympian Hubertus Schmidt on the Trakehner licensed stallion Imperio.  
"Oldenburg went very well," the 26-year old Danielle told Eurodressage. "The training has been going very well and I am glad that that feeling of success in training was reflected in the tests."
Certain that she still has room for improvement, Danielle said there were some hiccups during the weekend, particularly in the Special, but she was still able to show her horse's talent for the Grand Prix. "Siro has so much talent for piaffe and passage and he is showing more relaxation and good pirouettes," she explained. "Also I have been working on the connection and I feel that the contact to the bridle is more improved."
A master at 14 years of age, the Gribaldi x Hemmingway offspring is a very willing horse, that always tries his heart out for Danielle. "He is such a trooper," she added.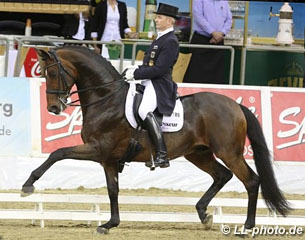 After a big 2013 year Danielle has been paying a lot of attention on perfecting the basics with her trainer Anky Van Grunsven. "Our focus is on improving the horse's relaxation and his connection with the bit, both of which I feel are coming along better all the time," she stated.

Set on her goal to start at the 2013 CDI-W London next month and some other World Cup matches, Danielle hopes to qualify for the World Cup finals. "I know I must train hard," she said firmly.
Heijkoop will also continue schooling several talented successors. Alongside two youngsters, Danielle has three small tour horses: the 8-year old Action (by United x Jazz) and the 7-year old Badari (by Gribaldi x Damocles). With the 7-year old Blue (by Gribaldi x Hauptlord), which she rides for sponsor Monica Koole, she will make her small tour debut next week.
Photos © LL-foto.de
Text by Sarah Warne
Related Links
Scores 2013 CDI Oldenburg
Danielle Heijkoop Makes Bold Move into the Big League at 2013 CDI-W 's Hertogenbosch
Dutch Team Selected for 2013 European Dressage Championships