Hanoverian Breeding News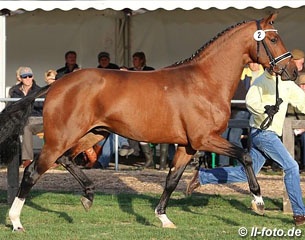 Hanover has good reason to celebrate this year. The event saw a number of outstanding horses, with 53 approved stallions in the end, of which 19 received a premium. There was good consensus regarding the premiums this year – each one was well earned and given to the right horse.
This year also marked the first year of the new cooperation between the Hanoverian Verband and the Rhineland Warmblood Association. As a consequence, we saw stallions with the Westfalian and Rhineland brand on the hip in the ring. A nice addition was the Rhineland flag next to the Hanoverian outside of the Niedersachsenhalle.
And as if he knew: the largest contingent of stallion candidates came from the line of the Rhineland major sire Florestan via his sons and grandsons Fürst Nymphenburg, Floriscount, Fürstenball, First Dance, Fidertanz and Fürst Romancier. All in all, these F-line horses really impressed with their qualities. The Donnerhall line was represented by De Niro, Deveraux, Damsey, Dauphin, Dancier, Diamond Hit and Desperados. And another first was the appearance of the first Hanoverian sons of Ampere and Totilas.
Good Marketing
Also, the Verband initiated a central organization of a video and photo shoot this year, which was also used for a centralized vet check. This really helped to streamline the procedures, especially in the vetting department, and although not everybody was happy about this idea, the Verband was proven right. A veterinary panel of three experts checked all colts and evaluated x-rays, and obviously this really helped to put everybody on the same page. The video clip production was once more a highlight, every stallion was online days before the event, and spectators from around the world had an opportunity to see all candidates that were for sale. That does, however, lead to a rather deplorable custom that has been observed for some time: the public (online) dismemberment of young stallions, often hiding behind the anonymity of the Internet and user names. One really wishes for some of these "experts" to have a horse in the ring one day and read nasty comments about it way before anybody has ever seen the animal in the flesh. Videos are never the real deal, and often make a horse appear longer, shorter, out of proportion. If you want to form an opinion, come and look for real.
From A to the D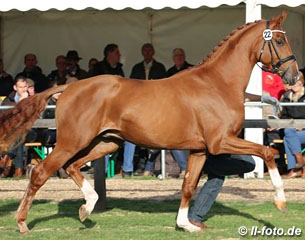 The dressage lot in Verden this year was opened with a real stunner, No. 2 by Ampere – Weltruhm – Latimer/Trak, presented by Gestüt Nymphenburg. The stallion was a very supple, correct mover in walk and trot and had a most pleasing type and body conformation. He received a premium and was bought back by the presenter for 130,000 euro.
Another premium was awarded to No. 10, a stallion with good type and ground covering movement by Damsey – Worldly – Laptop bred and presented by Leatherdale Farms. He sold back to his owners for 50,000 euro and will most likely start his career at the Meyer Stallion Station in Dorum. No 12 by Dancier – Weltmeyer – Airport was another solid premium candidate with an exceptional trot in terms of ground cover and elasticity. He was sold for 305,000 euro to Gestüt Bonhomme in Berlin. The field of the 5 Desperados sons was pretty homogeneous and of high overall quality. No 19 (dam by Lanthan – Salto), a most sympathetic chestnut, who had highlights in his trot work with great suspension, but still needs to mature into a solid stallion type. He sold at auction for 90,000 euro to Katrinlund in Denmark.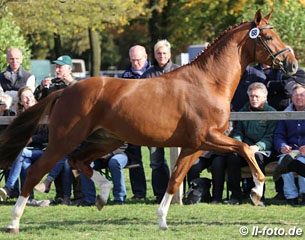 Equally impressive as a band of brothers were the sons of Diamond Hit. No. 25 (dam by Lauries Crusador xx – Lemon Tree) was the best in terms of type, and moved with ease and great suppleness. He also comes from a highly successful mare family and the Böckmann stallion station bought this interesting youngster for 240,000 euro.
F-line Excels!
The next premium then came from the large group of F-line stallions. No 68, a son of Fidertanz – De Niro – Weltmeyer really impressed from head to toe with wonderful athleticism and close-coupled, impulsive movement in his trot. The stallion was not for sale, but went back to begin his career at his breeder's barn, Klosterhof Medingen.
The group of Floriscount sons also impressed with very good movement – mechanics and impulsion in trot and canter were exemplary. A premium was awarded to No. 75, a liver chestnut out of a dam by Lauries Crusador xx – Wolkentanz. The stallion sold at auction for 80,000 euro to Singapore. In direct comparison, the sons of Fürst Nympenburg did not quite meet the quality of the Floriscount offspring. One received a premium nevertheless (dam by Londonderry – Karon/Trak) and sold to Belgium for 40,000 euro.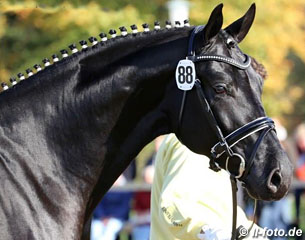 Next came 5 very different sons of Fürstenball, and the best one was Farrell (dam by Dacaprio x Wolkenstein II). He had displayed a very solid, likeable temperament (which cannot be said for all stallions this year!), and had one of the best walks of the crop. He had a brilliant type, and a very modern conformation. The stallion, bred by Mr. Plate from Otterndorf and presented by Dr. Klieber, sold to Blue Hors Stud in Denmark for 460,000 euro.
No. 88, Finest, was probably the "Champion of Hearts" at this event. The black beauty by Fürstenball out of a dam by Wie Weltmeyer – Prince Thatch xx, bred and presented by Andreas Trompeter, impressed with his exceptional type and self-carriage, great temperament and above average movement in all three paces. The maternal half-brother to St Moritz was not for sale and will begin his career at Gestüt WM.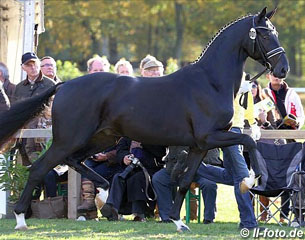 And speaking of St. Moritz Junior – another crowd favorite was No. 101 by St. Moritz Junior – Don Schufro – Atatürk from the breeding program of Mr. Wahlers. The stallion had one of the best walks of the entire crop, and displayed a maximum in shoulder freedom and lift in the knee when trotting. Maybe a bit too much Hackney in this one, as he did not cover good ground on the triangle. However, he left a great impression at liberty and especially on the lunge line. The stallion sold as the auction highlight for 580,000 euro, also to Blue Hors Stud in Denmark.
Sportmanship in Verden?!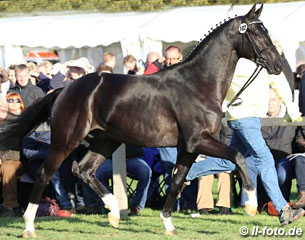 Two stallions at the end of the catalog divided the masses like few others before. No. 102 by Totilas – Desperados – Rotspon did not have the best hind end conformation, carried too much weight and could have been better over his top line. At the same time, he made no mistake and had three solid gaits. In fact, he actually showed a supple, reaching walk when many others failed to do so. He was rightly approved, also in comparison with others, and was sold for 100,000 euro to the sponsors of Edward Gal, obviously for a career under saddle. The noise (whistling and booing mostly) that erupted from several groups on the stands can only called childish and in fact, audacious. How unbefitting for the otherwise great crowd in Verden that obviously did not spend too much time thinking about the breeder, owner and handler of the horse in question. If this horse had a different sire, none of this would have happened (including possibly his approval). Totilas – or better his handling and promotion in Germany – has clearly left a bitter taste in many mouths, and this colt here in Verden received much of the blame. He was not a spectacular stallion, but so weren't many others. After all, a lot of money was paid for him, real or not, and it will be interesting to see where he stands in 10 years down the road. Time will tell. Hopefully, none of the "booers" will ever have to experience something like this first hand.
More noise erupted with the positive approval verdict for No. 103 by United – Stedinger – World Magic, this time some laughing and many cheers. It was sort of a surprise to see this stallion approved with a non-existing walk!! In the end, time will tell. This otherwise very impressive colt sold at auction for 60,000 EUR to Great Britain.
Definite Points of Criticism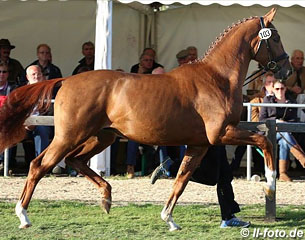 With all the euphoric celebrations going on, let's not forget that not everything that glitters is gold. It is troublesome to see that the walk is declining in quality, on a general level. Another truly nasty "new" development is the constant pressure that is put on these youngsters. Not just a few of them are asked to piaff before entering the ring, presumably to show even more drama and action in the trot. That is automatically rewarded by a most mediocre walk, with many young stallions not relaxing over their top lines and hence, not walking freely and balanced. Is this what we want? Maybe the approval committee should also start giving out yellow cards to dressage colts, just as they do with jumpers that are obviously prepared too much.
Also, not a new critique but one apparently necessary every year is the reminder that we are dealing with 2 year old horses here – and none of them look even remotely that age. In fact many are so "well fed" that their top lines disappear under a mass of fat and muscle, and saddle positions are going down the drain right with that. Generally, several horses this year looked downright fatted. What for?
Not too long ago, Hanover was the approval event with the most correct foundations, and very little acceptance threshold for incorrect joint alignment and formation of the foundation. Not anymore. A number of horses stepped very wide behind, were incorrect and winging in their front, and showed clear deviations in the formation of their foundation. Obviously, this is rather irrelevant for a sport horse as long as the conformational flaws do not cause soundness issues, but for our approval crop, it should matter. After all, these are supposedly the sires of the next generation. And while the 2013 crop clearly reached an outstanding quality level in terms of movement, we should not forget to pay attention to the alleged little things that can really mean a lot later on.
by Kerstin Aronis, translated by Maren Engelhardt for Eurodressage
Photos © LL-foto
Related Links
Strong Crop and Big Prices at 2013 Hanoverian Stallion Licensing
Colts Selected for the 2013 Hanoverian Stallion Licensing