Hanoverian Breeding News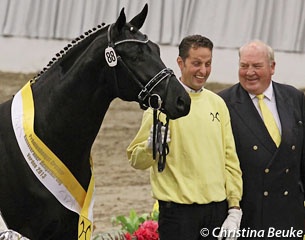 The 2013 Hanoverian Stallion Licensing held in Verden, Germany, on 24 - 26 October 2013 became a huge success with no less than 19 stallions being named premium and Danish Blue Hors stud paying whopping prices for more than 1 million euro for two stallions.
The Hanoverian licensing this year stood out with a large collection of good looking and well moving sporty young dressage stallions. For the first time a selection of colts from the Rhinelander studbook were licensed together as both societies have merged.
A total of 103 stallions was being presented, no less than 53 of them were licensed and 19 received the premium status.
For a couple of years now the Hanoverian society no longer proclaims a champion, but the crowd favourite was Finest, a Furstenball x Wie Weltmeyer offspring, bred by Andreas Trompeter and owned by Gestut W.M. This colt was not being offered for sale so on Saturday the other premium stallions claimed fame and stole the attention of the crowds and buyers.
Danish Blue Hors stud shelved out 580,000 euro for the premium colt St. Schufro (by St. Moritz Junior x Don Schufro), bred by Joachim Wahlers, and the stud also acquired the gorgeous Farrell (by Furstenball x Dacaprio) for 460,000 euro. The latter is bred by Hans-Henrich Plate and was owned by Dr. Kerstin Klieber. The modern, athletic bay impressed with his high quality walk and very supple trot. It is worth mentioning that Furstenball had no less than 5 sons from his second crop selected for the licensing: four were approved and two made premium !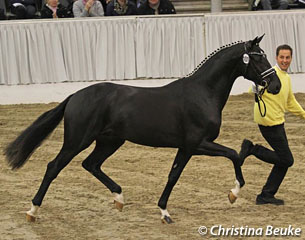 Other exceptional colts included the premium colts DeLorean (by Dancier x Weltmeyer - sold for 305,000 euro to Gestut Bonhomme), the American bred Damsey x Worldly (sold to a local customer for 50,000 euro) and Danzador (by Diamond Hit x Lauries Crusador xx - sold for 240,000 euro to Bockmann).
The crowds didn't always agree with the licensing committee. When Hanoverian society announced the licensing of the first approved Totilas offspring in the world, several people in the crowd began to boo. The black Totilas x Desperados colt moved quite well but was short and stocky in its top line. With the approval of the United x Stedinger people started to laugh! The United had a good trot and canter but a poor walk. Still he sold for 60,000 euro to Great Britain. The Totilas sold at auction for 100,000 euro to Edward Gal's Austrian sponsor Gaston Glock.
The premium Ampere x Weltruhm sold for 130,000 euro to Bavaria, the premium Desperados x Lanthan for 90,000 euro to Katrinelund in Denmark.
Photos © Christina Beuke
This year's Hanoverian premium stallions are:
Nr. 2 Ampere x Weltrum - Breeder: Jan Siemsglüss, Bommelsen
Nr. 10 Damsey x Worldly - Breeder: Leatherdale Farms, USA
Nr. 12 Dancier x Weltmeyer - Breeder: Georg Strübig, Vienenburg
Nr. 19 Desperados x Lanthan  - Breeder: Günther Vorwerk, Lohne
Nr. 25 Diamond Hit x Lauries Crusador xx  - Breeder: Stefanie Meyer, Freiburg
Nr. 31 Acorado x Stakkato  - Breeder: Frank Johannsen, Buxtehude
Nr. 35 Castino x Calido  - Breeder: Eckhard Kordes, Velpke
Nr. 36 Canstakko x Contendro I  - Breeder: Jörg-Jan Johannsen, Buxtehude
Nr. 43 Diarado x Contendro I - Breeder: Heinrich Bremer jun., Neustadt
Nr. 49 Lordanos x Acorado - Breeder: Salvatore Basile, ITA
Nr. 54 Quaid I x Stakkato - Breeder: Heinz-Herbert Grube, Wolfsburg
Nr. 61 Stolzenberg x Kolibri - Breeder: Christian Temme, Steinfeld 
Nr. 63 Stolzenberg x Montendro - Breeder: Alfred Denneboom, NL
Nr. 68 Fidertanz x De Niro - Breeder: Burkhard Wahler, Bad Bevensen
Nr. 75 Floriscount x Lauries Crusador xx - Breeder: Erika Lütjen, Grasberg
Nr. 80 Fürst Nymphenburg x Londonderry - Breeder: Dieter Kreyenhagen, Ostercappeln
Farrell (by Furstenball x Dacaprio) - Breeder: Hans-Heinrich Plate, Otterndorf
Finest (by Furstenball x Wie Weltmeyer - Breeder: Andreas Trompeter, Sottrum
Nr. 101 St. Moritz Junior x Don Schufro - Breeder: Joachim Wahlers, Reesum
Related Links
Colts Selected for the 2013 Hanoverian Stallion Licensing
Lauries Crusador xx Euthanized