2013 U.S. Dressage Championships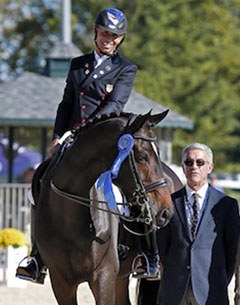 The Rolex Stadium at the Kentucky Horse Park hosted a full day of competition on Friday, as riders went to task across four divisions at the 2013 U.S. Festival of Champions. Steffen Peters and Legolas maintained their lead in Grand Prix Championship in the evening session under the lights. In Under 25 'Brentina Cup' Championship Emily Wagner and Weltdorff posted their second victory of the weekend to claim the 2013 National Title.
Earlier in the day, Ayden Uhlir and Sjapoer earned top honors in the Young Rider Championship. The US Pony Rider Championship kicked-off with Alison Redston and Tony claiming the first victory if the weekend.

The Grand Prix Championship
Eight Grand Prix competitors returned to the Rolex Stadium on Friday evening to earn a further 40% of their championship score by riding the  Grand Prix Special. In their second test of the weekend, Peters (San Diego, Calif.) and Four Winds Farm's 11-year-old Westphalian gelding were on track to again score in the high 70s but an error of course in the canter work meant their final score in the Special would be 74.771%. The 2012 National Champions once again demonstrated strong trot work and showed improvement in the changes.
"The horse was great, the rider wasn't good. My mind was set on riding the twos but the judges didn't want that," joked Peters. "It was the cleanest test we've had; Legolas was fabulous. It didn't matter too much tonight but I would have been really upset if this would have happened in a team competition. I'm confident it won't happen again."
Throughout the weekend at the 2013 U.S. Festival of Champions competitors across all levels have shown great potential for the future. Peters believes this is an extremely fortunate position for the U.S. to be in and the tours many riders did in Europe over the summer were extremely beneficial.
"The European tours were very successful and it is important to not only look at where we stand but where we are going," remarked the 2010 World Equestrian Games Bronze medalist.
Finishing in second place on Friday night was Guenter Seidel (Cardiff, Calif.) and Coral Reef Wylea with a score of 71.917%. The U.S. team veteran and Coral Reef Ranch's 13-year-old Westphalian mare demonstrated improvement in the FEI Grand Prix Special Test compared to Wednesday's Grand Prix.
"I rode a little more of a conservative test today. Which I think worked out well," said Seidel of his test on Friday. "From the rideability and the relaxation it was definitely the best test we've had."
Seidel and Coral Reef Wylea now stand second in Grand Prix Championship.
Finishing in third place on Friday night was Kathleen Raine (Murrieta, Calif.) and her own, Jennifer Mason, and David Wightman's 13-year-old Hanoverian mare Breanna. The pair scored 70.771% on Friday, and now lie third in the Championship.
Grand Prix competition comes to a close on Saturday night with the Freestyle as competitors will earn the remaining 15% of their overall title.
Emily Wagner Wins Under 25 'Brentina Cup' Championship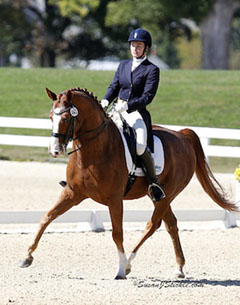 The championship title was decided for the Under 25 "Brentina Cup" competition during the end of the morning session on Friday as the up-and-coming riders performed the Young Rider Grand Prix Test. Twenty-five year-old Wagner (La Cygne, Kan.) rode her own Weltdorff to claim the prestigious title with an overall score of 65.578%. She and her own 11-year-old Hanoverian gelding had a rhythmical, harmonious test, displaying their eight-year partnership.
"He was just so supple today and I loved that feeling," commented Wagner. "My half-passes flowed and were really nice. The canter half-passes I really liked. We had a few shaky moments, but I know him very well so we recovered and really got out of it. We messed up our ones. Usually those are pretty solid, but what can I say."
After getting Weldorff as an unbroken three-year-old in Germany, Wagner as moved up the levels and learned alongside him. That fact made the championship title more meaningful.
"He has done so much for me because I have had him since he was a rascally three-year-old and because we have gone through so much together. There have been so many times where I've thought, 'I don't understand, he doesn't understand, we are up against a wall, what are we going to do?' And that makes this mean so incredibly much to me. So I'm thrilled," said a delighted Wagner.
Genay Vaughn (Elk Grove, Calif.) rode Donarweiss GGF to Reserve Champion honors with an overall score of 64.646%. She and Starr Vaughn Equestrian, Inc.'s 12-year-old Hanoverian stallion made a solid effort with lovely canter pirouettes highlighting their test.
"We had a pretty good test; we had a few mistakes but I am really happy with him," remarked Vaughn. "I am even happier with how we did our first year out. I am excited to even be here, it's an honor."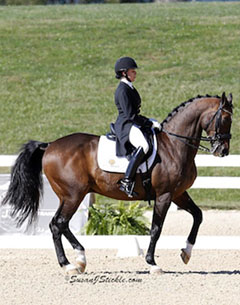 Vaughn hopes to do some training in Europe next year, but would like to continue to compete in the "Brentina Cup" Program.
Lauren Knopp of Wellington, Fl. rode Rantaro, her own 17-year-old Holsteiner gelding, to a third-place finish, scoring a 64.294% overall. The pair had good flying changes and nice trot half-passes.
"We did a shorter warm-up and he felt hot and great and wonderful. It actually felt too good since I went off course," said Knopp of halting prematurely on the centerline.
Their placing was quite impressive since Knopp has been sidelined with a herniated disc in her back.
"I'm very excited. I had two months off because of my back so I didn't think I would get here," said an emotional Knopp of the accomplishment. "I just started riding two weeks ago, so I'm very, very excited."

Uhlir Wins 2013 U.S. Young Rider Championship
The eleven Young Riders returned to the Rolex Stadium on Friday to perform the Young Rider Individual Test, which would help determine the winner of the U.S. Young Rider  Championship. Uhlir (Kirkland, Wash.) added another title to her resume as she claimed top honors in the championship with an overall score of 68.211%. She and her mount for the past three years, Sjapoer, performed a lovely test that flowed from movement to movement to earn a 68.184%.
"He was a little bit quieter, he wasn't so awake today. We only had mistakes in the walk and the halt-rein back, but we recovered for the rest of the ride," commented Uhlir. "I felt that he was fairly consistent, and just a fairly decent and good ride. Our canter work was a lot better than our trot work. I felt like our tempis were very straight, jumpy, and overall good."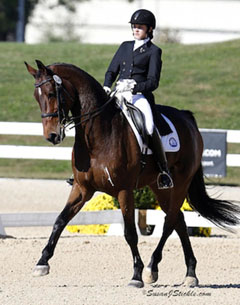 Uhlir trains with USEF Youth Coach Jeremy Steinberg and has found much success with the help of his long term intensive training program. After winning the 2012 USEF Junior Dressage National Championship, Uhlir moved up to the Young Rider level and continued to improve with her own 14-year-old KWPN gelding.
"There's this big list and it asks you all these questions about what you want to do with your riding goals, both short term and long term. It's a guideline to help you follow that path. It's definitely an amazing program and seems to be working quite well for me right now," Uhlir said with a smile.
Rachel Chowanec (Columbia, Conn.) claimed the Reserve Champion title with Embrujado XI with an overall score of 66.356%. She and Lendon Gray's 15-year-old PRE gelding made a solid effort in their test, which was highlighted by quality canter work. The test only had a minor mistake during the shoulder-ins, scoring a 67.237%
"He was better today, not as spooky," said Chowanec. "I couldn't get him to turn during the shoulder-in to go across the arena but after that he was really good."
Kaitlin Blythe (Rougemon, N.C.) rode Daverden to a third-place finish with an overall score of 65.645%. She and the 14-year-old Hanoverian gelding had nice tempis and extensions to earn a 66.237%.
"My test was much better today. I feel like the quality wasn't as good as yesterday, but we had a lot less mistakes," said a pragmatic Blythe. "He was a lot different today. Yesterday he was a lot more up, but today he was a little quieter."

Redston Leads 2013 US Pony Rider Championship
Redston (Needham, Mass.) collected a first-place ribbon in the Pony Team Test with her own Tony. She demonstrated an accurate, energetic test with the 13-year-old German Riding Pony gelding to score 65.923%.
"I thought my ride was pretty good," Redston said. "I think Tony feels at home in this big stadium; he's realized that this is finally where he's supposed to be."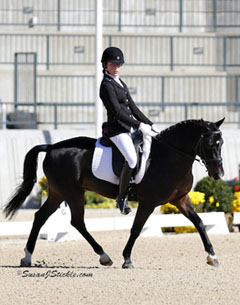 Redston views these Championships as an introduction to the top levels of Dressage in the U.S. "I got into ponies because I always thought that ponies were really compassionate and they were the sweetest little things in the world.  I wanted to have a pony just for me, to take him around and show him and show what we can do."
Standing in second place in the division are Nadine Orriss and Allegria. Orriss (Bellevue, Wash.) and her own 14-year-old Welsh/Dutch Warmblood mare presented a solid ride to score 64.026%.
"I thought I did pretty well," Orriss commented. "It was kind of hot out so my pony was really lazy, so it was really hard to get her in front of the leg. But we tried our best. I know she always tries her best and puts on her game face whenever she goes in the ring, so I'm really pleased with how we did."
Orriss enjoys riding ponies because she's able to challenge herself among a level playing field. "I wanted to do it because it's a pretty hard test and there aren't a lot of ponies. It's been hard the past few years competing against the big warmbloods, so finally having your own division where ponies are going against ponies is really fun."
Savannah Rose Franklund (Boulder, Colo.) rode into third place with CF Godiva Chocolate. She and her own 13-year-old American Quarter Pony gelding scored 63.718%.
The U.S. Pony Rider Championship comes to a conclusion on Saturday as they perform their Pony Individual Tests to earn the remaining 50% of the championship score.
Photos © Sue Stickle
Related Links
Scores 2013 U.S. Dressage Championships
Herslow, Uhlir, Davis In Winning Mood on Day 2 at 2013 U.S. Dressage Championships
Peters, Herslow, and Wagner Take First Steps Toward 2013 U.S. Dressage National Titles
2013 U.S. Dressage Festival of Champions Ready to Begin