KWPN Breeding News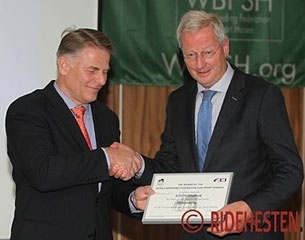 At the 2013 WBFSH annual meeting in Warsaw, Poland, the KWPN society was honoured for taking first place in dressage and show jumping in the final 2013 FEI/WBFSH Ranking. WBFSH President Jan Pedersen handed the winner's certificate to KWPN president Siem Korver.
The Dutch warmblood association KWPN claimed first place in dressage (14792 points) as well as show jumping, whereas the Irish Sport Horse (ISH) once again took first place in eventing.
The best KWPN dressage horse contributing to the KWPN's winning position is Valegro (by Negro x Gerschwin), bred by Maartje and Joop Hanse in The Netherlands. Valegro topped the ranking with 2915 ranking points. The other Dutch warmbloods contributing to KWPN's winning place were Parzival, Undercover, Uthopia, Scandic and Siro.
The Hanoverian society finished in second place with 13,323 points. The highest scoring Hanoverian was Desperados (2454 points), followed by Don Auriello, Don Johnson, Dabino, D'Agostino and Blind Date.
The Westfalian society placed third on the dressage ranking with 12,015 points. Best scoring Westfalian was Damon Hill with 2848 points, followed by Legolas, Eichendorff, Fabriano, Wylea and Divertimento.
The best show jumper horse is in fact the Selle Français mare Castle Forbes Myrtille Paulois (by Dollar du Mourier x Grand Veneur), bred by Mme Agnes Grosz in France. The 2013 European Jumper Champion scored 1655 ranking points. Best eventing horse is Nereo (by Fines x Golfi) bred in Spain (!). This horse totalled 347 ranking points.
2013 WBFSH Studbook Ranking - 2013 WBFSH/FEI Dressage Horse Ranking
Photo © Ridehesten
Related Links
Valegro Leads Provisional 2013 WBFSH Dressage Horse Ranking
KWPN Society and Valegro Lead 2012 WBFSH Dressage Ranking
KWPN Leads 2011 WBFSH Ranking in Dressage
Totilas Takes KWPN to the Top in 2010 WBFSH Ranking
Hanoverians Win 2006 WBFSH World Breeding Dressage Ranking