2013 U.S. Dressage Championships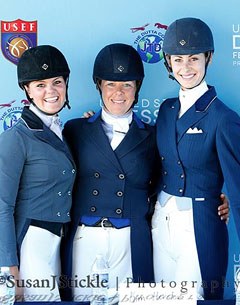 Two divisions kicked off competition on Thursday at the 2013 U.S. Dressage Festival of Champions, while Intermediaire I competitors completed their second tests of the weekend. Kim Herslow and Rosmarin continue to hold the lead in Intermediaire I Championship following a solid effort in the afternoon. In the first test of the U.S. Young Rider Championship, Ayden Uhlir and Sjapoer powered to top honors. Earlier in the morning, Bebe Davis and Rotano began their National Title quest with a win in the first of two performances of the U.S. Junior Rider Championship.
The 12 Small Tour competitors returned to the Rolex Stadium on Thursday afternoon to complete the Intermediaire I test and earn a further 45% of their championships score. Herslow (Stockton, N.J.) and Kiroli Enterprises Inc.'s Hanoverian gelding were the winners of Wednesday's  Prix St. Georges and continued to impress in their second test of the weekend. Rosmarin once again demonstrated stunning ground-covering gaits to score 75.789% to win the FEI Intermediaire I test and continue to lead Intermediaire I Championship.
"I'm thrilled with my horse. I had a couple bobbles, but overall I'm thrilled," said Herslow of her performance on Thursday. "There is so much more horse there; we're just scratching the surface."
Despite only being eight years old, Rosmarin is already quite experienced in the competitive arena, including being part of the winning U.S. team at the Wellington Nations Cup CDIO3* presented by Stillpoint Farm. Herslow believes the gelding continues to improve with each competition and thoroughly enjoys his job.
"I feel like he gets into the groove each show; he gets better and better. He studies his work," said Herslow. "He lets you enjoy the ride. I'm lucky to have him."
Caroline Roffman rode the 2012 US Developing PSG Horse Champion Her Highness O to a second-place finish for the second consecutive day. The pair, which competed in small tour competition at the Aachen CDIO5* this summer, performed a solid test that was just marred by too many two-time changes to score 73.053%.
"Yesterday I had mistakes in the changes. Today I had great changes, I just did too many," said a pragmatic Roffman of her test with her own 10-year-old Hanoverian mare. "There were a lot of highlights for me. I was really happy."
Roffman and Her Highness O stand second in the championship with one test remaining.
Sarah Lockman (Rancho Cucamonga, Ca.) and Pamela Munson's 11-year-old KWPN gelding Vinterpol have risen to third place in the championship after earning a 70.553% and third-place finish on Thursday.
The Intermediaire I Championships comes to a conclusion on Saturday as the Small Tour combinations perform their Freestyle Tests and earn the remaining 15% of the championship score.
Uhlir Leads 2013 U.S. Young Rider Championship
Uhlir (Kirkland, Wash.) stormed into the top spot of the Young Rider Championship with Sjapoer, scoring 68.237% in the Young Rider Team Test. She rode her own 14-year-old KWPN gelding to a 2.763-point lead heading into Friday's Young Rider Individual Test. 
"Today, since it's our first day of competition, I was trying to be more reserved in my riding," Uhlir said. "I didn't want to push him too hard. I was testing some of his buttons in the warm-up to see if he was listening to my aids and he seemed to be listening quite well. My test was very nice. I think I messed up on one of my tempis, but I recovered and I got the rest of them, so it wasn't too big of a deal. Overall, it was a pretty solid test for the first day.  I'm really excited for tomorrow."
Uhlir won the U.S. Junior Rider Championship last year. She and her trainer, Jeremy Steinberg, have been working on some specific details since winning the FEI North American Young Rider Individual and Freestyle Championships at the 2013North American Junior & Young Rider Championships.
"We've been working on getting some passage steps and he seems to be clicking into them more. We're just fully building him up to the next level. I would love to do "Brentina Cup" on him."
Standing second in the division are Rachel Chowanec and Embrujado XI. Chowanec (Columbia, Conn.) utilized the 15-year-old PRE gelding's impressive gaits to score 65.474%.
"Overall he felt pretty solid and we went for it with a lot of things," said Chowanec. "With the tempis, we pushed them a little bit to get them all bigger and it felt very good."
Chowanec competed in the 2012 US Young Rider Championship and finished in fourth place. This year she is focusing on how to manage Embrujado XI when he is easily spooked.
"Over the years it's kind of been what works with that day," Chowanec explained. "Some days I really have to slow him down and get him thinking about me and rely on my aids. Other days, like today, he was really behind me so I had to push him forward and push him through the spookiness, not go around it."
Kaitlin Blythe rode Daverden into third place. Blythe (Rougemon, N.C.) and the 14-year-old Hanoverian gelding produced a solid effort scoring 65.053%.
The Young Rider Championship competition continues Friday, with riders performing the Young Rider Individual Test, which will count for the remaining 50% of the overall average.
 
Davis In Front in U.S. Junior Rider Championship
Experience led the way in the U.S. Junior Championship as Davis (Bedminster, N.J.) and Rotano jumped out to an early lead after earning a 68.541%. Davis was the 2012 U.S. Champion in the Pony division and looks to add another Championship title to her resume with the 12-year-old Hanoverian gelding owned by Michael and Sarah Davis. The pair displayed an accurate and forward test highlighted by an accurate canter tour.
"I had a really super ride," Davis said. "This is my first year in the Juniors, so I kind of came into this as it's my first year just to learn, so I am really excited to be doing this. I was very, very pleased with my test. It had some really nice moments."
Davis was able to utilize her experience from previous competitions to produce one of her best performances when it really mattered today.
"I would like to say my canter work was definitely a highlight. He was super, just really willing today. I could feel it that he was really with me and really paying attention."
Cassie Schmidt rode Leslie Schmidt's Velasquer into second position in the Team Test. The impressive 11-year-old Dutch Warmblood gelding put forth an expressive performance to score 66.703%. Schmidt and Velasquer have bonded over the past year and are quickly building an affinity for each other.
"I was super happy with my test today," Schmidt commented. "Everything felt really good. He was so easy, he was so willing; he just did such a good job. This is my first year to come to the Festival of Champions. I have been in the Juniors for four years now and I was just so happy with everything. He was just so super."
Lindsey Holleger (Whigham, Ga.) trotted into third place riding her own Friedensfurst, an 11-year-old Trakehner gelding, to a score of 66.568%.
The Junior Championship competition continues Saturday, with riders performing the Junior Individual Test, which will count for the remaining 50% of the overall average.
The day concluded with all 11 entries in the U.S. Pony Rider Championship being accepted at the Horse Inspection.
Photo © Sue Stickle
Related Links
Scores 2013 U.S. Dressage Championships
Peters, Herslow, and Wagner Take First Steps Toward 2013 U.S. Dressage National Titles
2013 U.S. Dressage Festival of Champions Ready to Begin