American Dressage News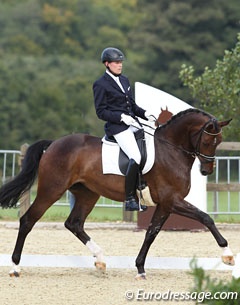 Steffen Peters' sponsor Akiko Yamazaki has acquired the 6-year old Rhinelander mare Rosemunde as future Grand Prix horse and Rio hopeful.
Yamazaki became Peters' principal sponsor when she acquired Ravel for him in 2006. The duo became one of America's most successful pairs ever, competing at the 2008 and 2012 Olympic Games, winning double individual bronze at the 2010 World Equestrian Games and becoming the 2009 World Cup Champion. The Westfalian Legolas was bought in 2010 as a successor for Ravel and is now America's number one Grand Prix horse aiming for the 2014 World Equestrian Games. Rosamunde will be Legolas' successor.
"Our requirement was that the horse have the potential for 80 per cent," Akiko told dressage-news.com, "which is now required to be on the medal podium. So we were very selective and took our time. While Rosie is very young, she seems to have the potential to fulfill this requirement with three outstanding gaits, an amazing ability for collection, and the suppleness which is the signature of Steffen's riding."
Rosamunde was owned by the company Equestricon s.a. and German Joachim Arl negotiated the sale. As part of the deal, Joachim's daughter Lavinia Arl, the current Belgian Pony Champion, will get the opportunity to train with Steffen in California during an upcoming school holiday.
The dark bay mare was the top selling filly at the Westfalian Elite Foal Auction in 2007 and was initially started by Caroline Siebert, who showed her at the 2011 Bundeschampionate. In 2012 Arl's protege, Finnish Grand Prix rider Henri Ruoste, took over the training and competing of the horse.  This year Ruoste and Rosamunde competed in the 6-year old young horse classes at the CDI Vidauban.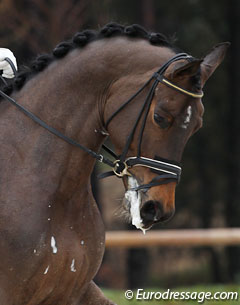 "I'm a little sad and happy at the same time," said Ruoste.  "I'm honoured to have had the opportunity to work with her and be part of her future, as I think she is one of the best horses in the world. I'm really happy to have seen how Mr. Peters, no doubt one of the best riders in the world, worked her and made her shine in completely new level in his brilliant way."
Rosamunde is currently in quarantine in Los Angeles, where the 49-year old Peters is now training her before she will move to his yard in Arroyo near San Diego, CA. The projected path for the mare are the 2015 Pan American Games in Toronto and potentially the 2016 Rio Olympics.
Related Links
Rosamunde and Louidor Win 2012 Wickrath Bundeschampionate Qualifier
Rhinelander Riding Horses Selected for 2011 Bundeschampionate
Tamango, Price Highlight at 2007 Elite Foal Auction in Munster