2013 European Dressage Championships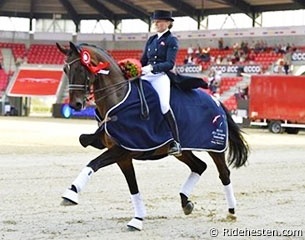 Denmark's Nanna Skodborg Merrald and Daniel Bachmann and Germany's Nadine Husenbeth did their nations proud by claiming the top three spots in the two Under 25 classes at the 2013 European Dressage Championships in Herning, Denmark, on 20 - 25 August 2013. Winning the Intermediaire II with 74.605%, and the Short Grand Prix with 73.411%, Nanna Skodborg Merrald closed a fantastic season after already becoming the Danish U25 Champion in June.
Merrald felt that her 12 year-old Danish bred gelding Millibar (by Milan) was in the mood. "My tests in Herning were very good and I already had a good feeling in the warm-up area," Nanna told Eurodressage. "Millibar was really in the mood and ready for the task. The first day, the piaffe and passage were not completely regular but the trot and the canter work were super. 
The second, I again had the same good feeling and this time the piaffe and passage were better but still not perfect."
Despite some mistakes in the canter, Nanna felt that she made up for it with very good extended trot work, for which she earned a lot of 9's.
"My pirouettes were also very good," she added proudly.
Certain that if Millibar continues to develop in this way, Nanna will try to compete at the senior level events next year and then see how it goes, thought the 2014 World Equestrian Games in Normandy are certainly on the horizon. "It is pretty hard to compete against the seniors, so I don't think it will be so easy, but I will try.
 First, my plan is to further develop Millibar in the piaffe and then hopefully compete at the 2013 CDI-W Odense."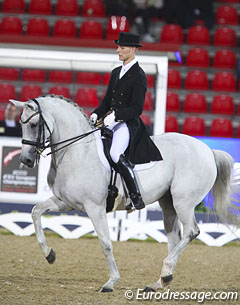 With the big experience of competing in Herning already under her belt, Nanna will not forget riding in such a big stadium with so many people cheering her on. "I really felt that the Herning crowd was always in a very good mood!"
Second in both the Intermediaire II and Short Grand Prix, Denmark's Daniel Bachmann and the Danish warmblood mare Donna Silver (by Don Schufro x Willemoes) earned a 71.184% and a 71.628%.  Donna gave Daniel a really good feeling in both tests. "I'm very happy with the show and the horse," he said briefly.
Donna Silver is owned by Italian Grand Prix rider Silvia Rizzo and the grey mare was trained to Grand Prix level by Bachmann in 2011. After a brief stay in The Netherlands, the horse was returned to Bachmann, who has been acing the U25 classes in Denmark with solid 70% scores.  Daniel felt that Donna's greatest strength in Herning was clearly her canter tour on the Friday, but really the whole show was a highlight.
"I think it's a great possibility for us as young riders to try out the "big" show ring. It was a great feeling to ride in the grand arena in Herning," he said.
With no definite show plans for the near future, 23 year-old Daniel hopes to continue riding in the Under 25's as long as possible.
Taking out the bronze spot in both tests with 70.877% and 69.341%, Germany's Nadine Husenbeth and her 14 year-old mare Florida (by Fidermark) were proud to keep Germany in the top three spots.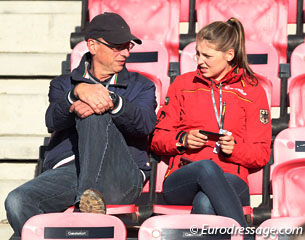 "It was a very great time in Herning. I stayed there from Monday to Friday and it was my first time being part of such a big event. It was very exciting," said Nadine. "It was a new experience for me starting there and I am very happy and also proud of my success.''
Currently studying Industrial Management at the University of Bremen, the 20 year-old only began competing in the Under 25's this year and hopes to continue having fun in this level with her chestnut mare. "Florida was given to me by my father last year and before this Florida competed with him at Grand Prix level. 
Her nickname is Flo and she really knows that she is my star. 
She has a strong character which makes her unique, and because of this I love her so much," she said.
Entering the grand Herning arena under lights, Nadine felt the atmosphere was unlike any other and coming from the warm-up to the main arena is something she cannot describe. "I am so happy to get the chance to compete under this conditions and the greatest challenge for me was to be not feel the pressure of the stadium, to remind myself it is just another horse show, just like all the others."
by Sarah Warne for Eurodressage
Photos © Ridehesten - Astrid Appels
Related Link
Eurodressage Coverage of the 2013 European Dressage Championships