2013 European Dressage Championships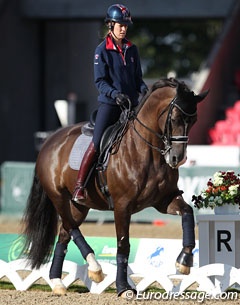 On Tuesday 20 August dressage riders competing at the 2013 European Championships in Herning, Denmark, got a final opportunity to train their horses in the main stadium before the team championship Grand Prix class starts tomorrow. Each team was given twenty minutes of time to school in the main arena, a soccer stadium turning into an equestrian arena for the event.
While some riders just walked or jogged their horses in the arena, others took advantage of the moment and practised parts of their Grand Prix test. The two Spanish riders, for instance, only hand walked their horses in the stadium, Carl Hester jogged Uthopia round the ring a bit and after four rounds turned over his stallion to the groom in order to coach Charlotte Dujardin a bit.
The Dutch team trained hard in one of the outdoor arenas and then only briefly scouted the stadium, doing a few piaffe and passage movements before going back outside. Diagnosed with cardiac arrhythmia and only back in work for a few weeks after an operation, Parzival returned to the show ring for his first outdoor competition of the 2013 season. Cornelissen rode her 16-year old gelding with a heart rate monitor that was sending a signal to a wrist watch so she could see her horse's heart rate at all times.
The German team riders kept the work light and want to have their horses fresh and fruity for tomorrow. The Danish home team scouted the arena as well. Nathalie zu Sayn-Wittgenstein and Digby only explored the ring in walk and trained their horses in the afternoon. Andreas Helgstrand and Lone Bang Larsen were fine-tuning mostly the piaffe and the passage in the stadium.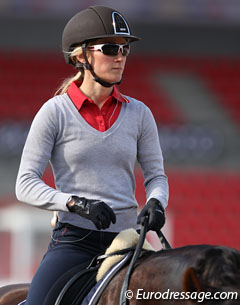 In an interview with the FEI's press officer Louise Parkes, Helen Langehanenberg said that the German team are fully focused as they set off in pursuit of that 22nd team success. "We will all do our very best and we will fight to the very end.  We are all in great shape" she pointed out. And, asked if she personally felt under a lot of pressure following her victory in the 2013 World Cup™ Dressage Final in Gothenburg, Sweden in April she replied, "I'm freeing myself from expectations, I will go and do my best, and once my test is done I cannot change anything.  The last decision is with the judges", she said.
 
The expectation is that the battle for the Individual medals will be played out between Langehanenberg, Dujardin and defending champion Adelinde Cornelissen.
Text and photos © Astrid Appels - NO REPRODUCTION ALLOWED
Related Link
Eurodressage Coverage of the 2013 European Dressage Championships