British Dressage News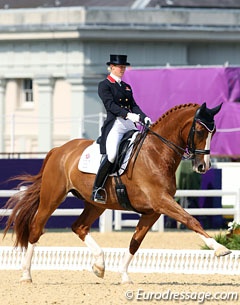 Laura Tomlinson and Mistral Hojris will not be competing for Great Britain at the 2013 European Dressage Championships in Herning, Denmark, on 20 - 25 August 2013. Mistral Hojris has sustained a slight injury and it has been decided not to risk his health and wellbeing. He will be replaced by Gareth Hughes on Stenkjers Nadonna.
"Mistral has had a niggeling injury, but he has been working well and was catching up fast with the training and fitness work," Wilfried Bechtolsheimer told Eurodressage. "After long and hard consideration we decided that we do not want to push him hard at this stage in his life especially as Alf has done so much for us."
Laura Tomlinson (née Bechtolsheimer) and Mistral Hojris collected 10 medals over the years, including Olympic team gold and individual bronze. "He was not the easiest horse in the beginning but he was always giving everything and we don't want to take advantage of his generosity," Wilfried added.

British World Class Dressage Programme Manager, Richard Waygood commented, "we are hugely disappointed not to have Alf [Mistral Hojris] out at the Championships. We feel he has been the most amazing servant to the British team and British Dressage and that he owes us nothing and we owe him everything; we wish him a speedy recovery. We welcome Gareth onto the team, for what will be his senior Championship debut."
Equestrian Performance Director, Will Connell, commented; "Mistral Hojris has been at the forefront of British dressage and for GB. All within Great Britain owe Laura, Mistral Hojris and the Bechtolsheimer's a huge debt of gratitude and this decision has been made with the welfare of the horse in mind. We welcome Gareth to the team and look forward to the competition in Denmark".
Photo © Astrid Appels
Related Link
Eurodressage Coverage of the 2013 European Dressage Championships