Dutch Dressage News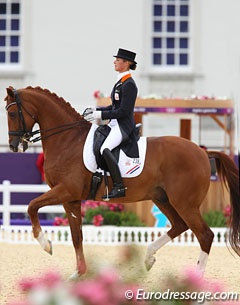 Adelinde Cornelissen and Parzival will be definitely competing on the Dutch team at the 2013 European Dressage Championships in Herning, Denmark, in two weeks. Parzival proved his fitness during a two-day training seminar with the Dutch team in Vorden, The Netherlands.
The 16-year old Dutch warmblood gelding was diagnosed with cardiax arrhythmia in June and had to be operated on at the universitary equine clinic in Ghent, Belgium. Parzival has not been competed since the 2013 World Cup Finals at the end of April and did not participate in any of the mandatory observation trials.
"Parzival is fit," said Dutch team trainer Wim Ernes at the training camp in Vorden. "The team is complete, the horses are in shape. We now have team and individual medal chances."
"I'm super happy," Cornelissen commented about Parzival's clean bill of health. "At home he felt good in training the past few weeks and what we are able to show today is fantastic. Parzival is healthy and I think we're ready for the European Championships. I'm looking forward to them."
The Dutch team includes Cornelissen on Parzival, Gal on Undercover, Danielle Heijkoop on Siro and Hans Peter Minderhoud on Romanov. The reserve is Patrick van der Meer on Uzzo.
The 2013 European Championships take place in Herning on 20 - 25 August 2013.
Photo © Astrid Appels
Related Links
Dutch Team Selected for 2013 European Dressage Championships
Parzival Not to Compete at 2013 Dutch Dressage Championships
Parzival Back in The Netherlands, Recovering at Home
Adelinde Cornelissen's Parzival Diagnosed with Arrhythmia
Parzival Passes Re-inspection at 2012 World Cup Finals