2013 Bundeschampionate Qualifier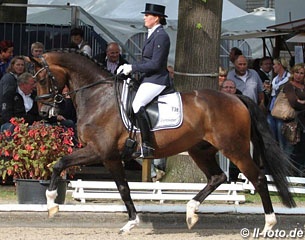 The 5-year old Choccolat and Quatertime and the 6-year old Sandiego were the winners of the Bundeschampionate qualification classes held during the international dressage competition in Munich on 10 - 12 May 2013. Six horses in total achieved the required score of 8.0 or higher to qualify for Warendorf.
The victory in the L-level test for 5-year olds became a tie. Wibke Bruns aboard the Oldenburg gelding Choccolat (by Rosandro x Davignon) scored 8 for trot and walk, and 8.5 for canter, submission and general impression to total 8.3.  Rudolf Widmann and the Oldenburg stallion Quatertime (by Quaterback x Donatelli) tied in first place and got 8.5 for walk, trot, canter and general impression, but 7.5 for submission. Two horses also tied in third place with 8.0. Johanna von Fircks and Diabolo Nymphenburg (by Don Crusador x Weltmeyer) received 8.5 for walk and trot, 7.5 for canter and submussion and 8.0 for general impression. Philipp Mücke and Quarter to Heaven (by Quaterback x Landesfurst) got an 8 for trot, 8.5 for walk, 7.5 for canter and submission and 8.5 for general impression.
In the 6-year old division Carola Koppelmann put solid 8s on the board for her M-level test ride on the Mecklenburger gelding Sandiego (by Sancisco x Davignon). In 2011 Sandiego was competed by Mareike Mimberg but Koppelmann took over more than a year ago and competed him at the 2012 Bundeschampionate. In Munich the duo received 8.5 for trot, canter and general impression and 8 for walk and submission.  With a total of 8.30 the pair won the trophy. Dorothee Schneider and the Hanoverian mare Kiss Me (by Kaiserkult x Sandro Hit) finished second with 8.0. They got 8.5 for trot, 7 for walk, 8 for canter, 8.5 for submission and 8 for general impression.
Photo © LL-foto.de
Results - 2013 Bundeschampionate Qualifier - Munich
5-year olds
1. Wibke Bruns - Choccolat (by Rosandro x Davignon) - 8.3
1. Rudolf Widmann - Quatertime (by Quaterback x Donatelli) - 8.3
3. Johanna von Fircks - Diabolo Nymphenburg (by Don Crusador x Weltmeyer) - 8.9
3. Philipp Mucke - Quater to Heaven (by Quaterback x Landesfurst) - 8.0
5. Kerstin Kronaus - Der Romantiker (by Don Romantic x De Niro) - 7.6
6. Tessa Frank - Feodor Nymphenburg (by Farewell III x Dormello) - 7.5
7. Ramona Ritzel - Tequila Sunrise (by Belissimo x Bordeaux) - 7.4
8. Ramona Ritzel - Quirino Rocco (by Quaterback x Piaster) - 7.3
8. Kerstin Kronaus - Rebana W (by Rosario x Ravallo) - 7.3
10. Lisa Mayer - Darjeeling (by Don Henrico x Warkant) - 7.0
11. Ursula Wagner - Deverino (by Dimension x Rubino Rosso) - 6.8
Ralf Kornprobst - Sandbrink (by San Amour x Cabaret) - ELI/RET
Damaris Lelke - Silvermoons Mariechen (by Silvermoon x Maizauber) - ELI/RET
6-year olds
1. Carola Koppelmann - Sandiego (by Sancisco x Davignon) - 8.3
2. Dorothee Schneider - Kiss Me (by Kaiserkult x Sandro Hit) - 8.0
3. Wibke Bruns - Donna Caribica (by Don Frederico x Krack C) - 7.7
4. Christina Jorck Jorckston - Don Afredo (by Damon Hill x Abanos) - 7.6
5. Ursula Wagner - Barneble (by Baroncelli x Rotsponà) - 7.5
6. Beate Maruschtik - Dirty Harry (by Diamond Hit x Hofrat) - 7.2
7. Dennis Meschke - Sir Nymphenburg II (by Sir Donnerhall x Reggazoni) - 6.8
8. Franz Trischberger - Nathalie (by Lorentin x Corofino) - 6.7
9. Lisa Mayer - Fidibus (by Florestano x Rocher d'Or) - 6.5
Related Link
Eurodressage Coverage of the 2013 Bundeschampionate