German Dressage News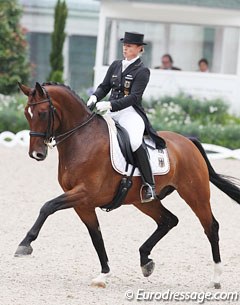 The positive medication case of Isabell Werth's El Santo is turning into a long-winded legal battle in court.  When the FN disciplinary committee decided to drop Werth's motion for bias, her legal team decided to appeal the decision with the FN Court of Arbitration.
In June 2012 El Santo tested positive to the prohibited medication cimetidine. In her defense Werth tried to prove that El Santo got contaminated with the product through a failing water system in her barn. A team of experts visited Werth's stable to check if this was a plausible argument.
Werth's lawyers also submitted a motion for bias against all three members of the first Chamber of the Disciplinary Commission of the German Equestrian Federation (FN). The second chamber reviewed this motion and rejected it.
The Court of Arbitration will now look into the case. 
Source: ST. GEORG
Photo © Astrid Appels
Related Links
Isabell Werth's Prohibited Medication Case Postponed
Isabell Werth's El Santo NRW Tests Positive to FN Prohibited Medication