2013 World Cup Finals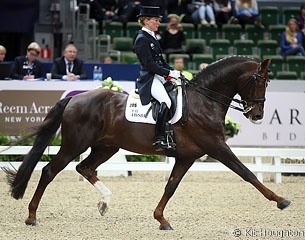 Germany's Helen Langehanenberg threw down the gauntlet when securing a convincing victory with Damon Hill NRW in the preliminary Grand Prix at the  World Cup Dressage 2012/2013 Final in Gothenburg, Sweden today.  The 30-year-old rider and her 13-year-old stallion have been challenging the supremacy of back-to-back double-champions Adelinde Cornelissen (NED) and her great gelding, Parzival, for some time now, and following today's result have piled on the pressure ahead of Saturday's Freestyle decider.
Langehanenberg had it all to do, having been drawn in the worst possible starting spot when first to go today, and there was plenty of drama as the tension got to many of the leading contenders.  But the winning pair simply rose to the occasion, producing a sparkling performance that set a target none of the rest could match.
Runner-up was The Netherlands' Edward Gal with Undercover while, last into the ring, Tinne Vilhelmson-Silfven and Don Auriello finished third for the host nation.  The biggest surprise of the day was the fourth-place finish for the defending champions, whose test was severely compromised by a disastrous spooky episode as they were executing piaffe, one of their trademark strong points, across the centre line.  Parzival suddenly spun on a circle and then did it again before regaining his composure and going on to complete his test.    
Fascinating Competition
It was a fascinating competition, and Canada's Jacqueline Brooks and her charming grey gelding, D Niro, showed why they were so consistently placed on the Florida circuit over the winter months when producing a happy performance for a mark of 67.356 when second into the ring.  The 45-year-old rider might hardly have expected that this would be good enough to qualify for the top 15 who will battle it out in Saturday's World Cup™ Dressage Freestyle Final, but it left them in 13th place at the end of a very interesting afternoon.
They were all chasing Langehanenberg's opening score of 79.863, and Denmark's Anna Kasprazak and Donnperignon gave a good account of themselves when, fourth to go, they were awarded 74.894.  However they were quickly elbowed out of runner-up spot by Gal and Undercover who seemed relaxed and concentrated as they built their delivery to a real crescendo for a mark of 78.465.  The steadiness of the gelding's head, and their crisp, clean transitions gave an air of real control, but the 43-year-old rider admitted afterwards that he didn't have the easiest of rides.  "Today he (Undercover) was more tense than he was in Den Bosch.  He saw something he didn't see this morning, but I'm very happy with him and he just kept getting better and better during his test.  He's a great horse to ride because he feels like he wants to do it for you," the 2011 World Cup™ Dressage champion said.
Reduced
Earlier in the morning, the Grand Prix start-list was reduced to 17 when Germany's Kristina Sprehe withdrew her 12-year-old stallion, Desperados FRH, due to lameness in a foreleg. The 26-year-old rider, who helped her country to take team silver at the London 2012 Olympic Games, noticed the horse was unsound and, at an early morning press conference, German coach, Monica Theodorescu, explained that Desperados was withdrawn after examination by the team veterinarian.
That left just eight in the first tranche of riders, and when Denmark's Sidsel Johansen and Schianto's 69.878 was followed by 69.498 from Switzerland's Marcela Krinke Susmelj and Smeyers Molberg there were just two left to run before the half-way break.
It all fell apart for Marlies van Baalen whose chestnut gelding, Miciano, became increasingly agitated and uncooperative, but the young Dutch rider showed just what she's made of when riding through it all to finish with a disappointing score of 63.070 but with the satisfaction that she had completed the test.  Last in before the interval, Canada's Jaimey Irwin and Lindor's Finest put 61.474 on the board.
Led the Way
Italy's Valentina Truppa and Eremo del Castegno led the way in the second half with a score of 71.778 and Russia's Tatiana Dorofeeva followed with a mark of 64.286 from Khorovod while Sweden's Minna Telde and Santana posted 72.097 to ensure a place in the final 15.  Norway's Lillann Jebsen and Pro-Set scored 68.146 despite losing their way, but the home crowd gasped when Patrik Kittel's performance with Scandic was quickly spoiled by a double-take in the corner of the arena as they executed their first extended trot and, once unnerved, the chestnut stallion never settled to his work for a score of 69.559 which would leave them in 10th place in the final analysis.
With just four left to go, the Ukraine's Inna Logutenkova and her colossal gelding Vian Stallone set sail for a mark of 66.702 before Cornelissen and Jerich Parzival took their turn.  Second-last into the ring, Isabell Werth's Don Johnson FRH also did a double-take early in their test, but the German star who has collected 29 shiny medals at Olympic, World and European Championship level throughout her spectacular career, showed the benefit of her extensive experience by simply riding with even greater determination for a good result of 75.015 that placed them temporarily fourth before Sweden's Vilhemson-Silfven and Don Auriello relegated them to fifth as the competition drew to a close.
Very Happy
Langehanenberg admitted that she would have preferred to start later in the competition "but it is how it is and you have to try your best, and I am very happy with my ride," she said, immediately after coming out of the ring.  "I had a brilliant feeling, although it was a bit of a pity with the "ones" (the one-time canter changes), it was a bit of a mistake and it was really expensive but, ok, better luck next time and the rest was really good!" she pointed out afterwards.
Even this most unassuming of ladies couldn't help but admit today however that she is daring to hope the Reem Acra title could be within her grasp.  "I can't really explain it but the feeling of being together with my horse just gets better every time we go into the arena now.  Something happens as soon as we start our test, and it gives me the confidence to go in and really give it everything I've got! He is really in front of me, and free, and working for me," she said after her victory.
"I love to ride the Freestyle, it is my favourite so I am really looking forward to Saturday," she added. Damon Hill NRW can look forward to a fairly relaxed day tomorrow. "We will just work on the "ones", we won't do too much so I can keep him happy and fresh", Langehanenberg said.  Clearly she and her stallion are now the ones they all have to beat.
Facts and Figures:
17 horse-and-rider combinations started in today's Grand Prix.
Three stallions and 14 geldings competed in today's competition.
The youngest horse in today's Grand Prix was third-placed 10-year-old Don Auriello, ridden by Sweden's Tinne Vilhelmson-Silfven.
The oldest horses were all 16 years of age - Jerich Parzival (Adelinde Cornelissen, NED), Pro-Set (Lillann Jebsen, NOR) and Lindor's Finest (Jaimey Irwin, CAN).
Saturday's Freestyle competition will decide the winner of the World Cup™ Dressage 2012/2103 title.
Quotes:
Tinne Vilhelmson-Silfven SWE, when asked about her preparation for the Reem Acra FEI World Cup™ Dressage Final - "I competed my horses in Florida until the end of March.  I brought Don Auriello home six weeks ago to get him adjusted and ready to come here".
Jean Michel Roudier, Judge at C: "This was a very open Grand Prix with wonderful horses and riders, and we (the judges0 really enjoyed judging it".
by Louise Parkes for the FEI
Photo © Kit Houghton
Related Link
Eurodressage Coverage of the 2013 World Cup Finals