2013 CDI Addington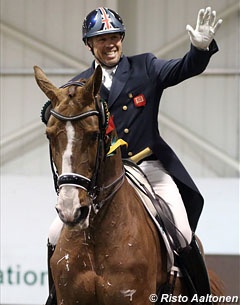 British Grand Prix rider Peter Storr dominated the Grand Prix Kur to Music at the 2013 CDI Addington on 29 - 31 March 2013. While the youth riders  were unphased by an EHV outbreak in the area and their classes were packed, the Grand Prix field was dramatically thinned out with seniors elected to stay away from Addington.
The Addington organisational team had put in stringent bio-security measures to ensure there was minimal risk from the current EHV outbreak and also worked round the clock to keep the competition running in light of a number of withdrawals.
The senior competition was initially disappointing when a number of senior British riders withdrew last minute. Three men were left standing: Peter Storr with Susan Stringer's Belmondino plus Dutch duo Seth Boschman and Vai Bruntink. 
On Friday evening, top honours went to Seth, riding Twister RVL with 67.553% but Peter was just 0.5% adrift in second with three of the five judges having him in top spot. Vai was third on 64.897%.
The next evening, it was Peter's turn for the red rosette, putting up a great freestyle on the Beltain-sired gelding for their first grand prix level win. The prize giving was a test of the horse's temperament with the small, but noisy assembled crowd cheering and breaking into a Mexican Wave!
Peter commented; "It was a great show – everyone came together to make it so! The organising team deserve a medal for the effort they put in and there was such a great spirit throughout. The young riders from all over Europe really got together and while the competition was fierce in the arena, outside the arena, they were great friends."
Photo © Risto Aaltonen
Related Links
Scores 2013 CDI Addington
Cathrine Dufour Makes a Clean Sweap at the 2013 CDI Addington
British Junior Erin Williams Lands Top Spots at 2013 CDI Addington