2013 World Championships for Young Dressage Horses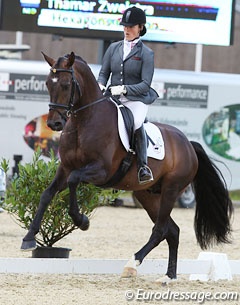 At the first Dutch selection trial for the 2013 World Young Dressage Horse Championship in Ermelo, The Netherlands, on Tuesday 2 April 2013, the KWPN and KNHS selection committee harvested a crop of 32 horses that are allowed to continue the process for Dutch team selection for Verden.
Sixteen 5-year olds and sixteen 6-year olds have been selected by Wim Ernes, Johan Hamminga and Gert van den Hoorn to participate in the selection and observation trials in Ermelo.
The next selection and training day takes place next week Tuesday 9 April. A few more horses will be invited to participate as they were unable to attend the first trial because of various reasons.
So far selected are:
5-year olds
Dream Boy (Vivaldi x Ferro) - Gerdine Maree
Desperado (Vivaldi x Havidoff) - Emmelie Scholtens
Dagsus (Painted Black x Elberton) - Judith Pietersen
Dundee M (Lord Leatherdale x Sandro Hit) - Sharon Loeffen
DJ Jazz (Jazz x Diamond Hit) - Kim Vugts
Don Tango B (Contango x Jazz) - Diederik van Silfhout
Dancer (Vivaldi x Tango) - Kirsten Brouwer
Dark Pleasure (Ufo x Jazz) - Gerdine Maree
Dibert L (Vivaldi x Balzflug) - Stephanie Kooijman
Double Trouble Two (Jazz x Ferro) - Cindy van Vugt
Dorado (Krack C x Rousseau) - Emmelie Scholtens
Dolcevendy (Lord Leatherdale x Jazz) - Judith Ribbels
Dylan (Vivaldi x Jetset-D) - Laura Zwart
Devil Diamond N (Florencio x Flemmingh) - Jessica Nijpjes
Denci (Ziesto x Oscar) - Gerdine Maree
Dude (Vivaldi x Havidoff) – John Tijssen
6-year olds
Capetown (Rubiquil x Democraat) - Thamar Zweistra
Chakakahn (Sir Donnerhall x Polansky) - Laura Zwart
Charmeur (Florencio x Jazz) - Emmelie Scholtens
Chocolate Cookie R.D.P. (Johnson x Livingstone) - Jenny Schreven
Cidamorka (Jazz x Zuidhorn) - Roy van den Heuvel
Chicago M.H. (Vivaldi x Montecristo) - Jonna Schelstraete
Charleston B (Jazz x Rubinstein I) - Lotje Schoots
Casper (Westpoint x Goodtimes) - Hans Peter Minderhoud
Chardonnay (Winningmood x Flemmingh) - Vai Bruntink
Clarc (Dreamcatcher x Lord Sinclair) - Lars op 't Hoog
Corleone VH (Winningmood x Oscar) - Clementine Voest
Charon (Rubiquil x Havidoff) - Thamar Zweistra
Cachet L (Jazz x Ferro) - Mirelle van Kemenade-Witlox
Charisma (Painted Black x Contango) -Tom Franckx
Cirano (United x Jazz) - Lobke de Jong
Coco Chanel (Sandreo x San Remo) - Patrick van der Meer
Photo © Astrid Appels
Related Link
Three Horses Receive Wild Card for 2013 Dutch WCYH Selection Process