2013 CDI-W 's Hertogenbosch
Defending double-champions, Adelinde Cornelissen and Jerich Parzival, won the last leg of the World Cup™ Dressage Western European League 2012/2013 on home ground at the Brabanthallen in 's-Hertogenbosch, The Netherlands this afternoon. But Dutch colleague, Edward Gal, put them under intense pressure with a brilliant performance from Glock's Undercover that brought the crowd to their feet.
Yesterday Gal and the 12-year-old gelding were 1.362 percentage points off Cornelissen's winning score in the Grand Prix.  But Ground Jury members Katrina Wuest (GER), Hans Christian Matthiesen (DEN), Francis Verbeek van Rooij (NED), Jacques van Daele (BEL) and Adriaan Hamoen (NED) saw an even closer margin today , with just 0.8 separating the two.  Things could now hardly be more exciting ahead of next month's World Cup™ Dressage Final in Gothenburg, Sweden, as Gal is quickly closing in on his team-mate with increasingly impressive performances, while Germany's Helen Langehanenberg and Damon Hill have already proven that they are a force to be reckoned with in the battle for the prestigious title.
With another nice test from Don Johnson FRH, Germany's Isabell Werth slotted into third ahead of Denmark's Anna Kasprzak and the expressive Donnperignon while Sweden's Patrik Kittel and Scandic claimed fifth place.  There was a big buzz in the aftermath of the competition, and while it was Cornelissen who stood top of the prize-giving line, the electricity was all emanating from Gal whose enormous grin said it all. 
Today marked a turning point for his lovely black horse who bears more than a passing resemblance to the great stallion, Totilas, which carried him through one of the most exciting periods in the history of this sport as they set new standards until parting company after winning the FEI World Equestrian Games in 2010.  Together they changed the face of international Dressage, and Gal admitted this evening, in almost a whisper, "it's not just because he's a black horse, it's about the feeling ....riding a horse that doesn't want to stop and wants to give everything and more....today was a little bit like the same Wow feeling I got with Totilas back then!" he said.
Full of Quality
From the outset this last qualifier was full of quality, with Switzerland's Marcela Krinke Susmelj showing exactly why she was lying sixth on the Western European League rankings coming into this leg of the series as she produced a lovely opening test from Smeyers Molberg that oozed softness and harmony. And their score of 73.850 held the lead until surpassed, first by Sidsel Johansen and Schianto who notched up 74.950 and then by fellow-Dane Anna Kasprzak who really raised the game just before the half-way break with a mark of 78.650 for Donnperignon.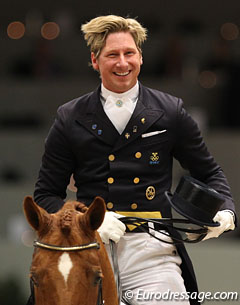 Not even the near-perfection of the passage and piaffe produced by Sweden's Patrik Kittel and Scandic could oust this Danish pair who remained in front until Cornelissen took her turn with four left to go. And despite the fact that the title-defenders are still feeling their way into a whole new floor-plan and musical score, they forged way ahead when putting 85.900 on the board. 
Germany's Isabell Werth powered into the arena as the penultimate competitor and posted 79.475 to slot into runner-up spot with Don Johnson FRH, but that wouldn't last long.  Because Gal and Glock's Undercover kept the crowd spellbound with a last-to-go test that clearly has room for improvement but which had that distinct whiff of a little bit of magic.  The spectators couldn't contain themselves when he left the ring, spontaneously rising to their feet to roar their approval, and when the judges marks were displayed there was an intake of breath, because Gal's score was so very close to overtaking their other great favourite.  The Dutch are spoiled for choice once again.
Master the Movements
For Cornelissen today was a big one, as she still has to master the new series of movements that will, no doubt, come together to even greater effect over the coming months as both she and her lovely chestnut gelding perform her "Tribute to my Red Knight".  She uses Parzival's extraordinary expertise in canter pirouette to full effect in this new Freestyle which, although perhaps less majestic and dramatic, flows easily and will surely make an excellent replacement for the former Tchaikkovsky-themed test that brought them so much success.

"I need to change some small things, and we are still getting used to the new test but I'm very happy because with Parzival it is all getting much lighter and more harmonious" she said.

While Cornelissen was being philosophical, Gal could hardly contain his excitement at having pushed her so closely.  "I was the most happiest rider today!" he said with a big smile at the post-competition press conference.  It is partly the speed at which his partnership with Undercover is coming together that is surprising him.  He brought the 12-year-old horse with him to 's-Hertogenbosch this time last year just to let him experience the atmosphere of a big show and all that goes with it, but only started riding the horse in January 2012.  "I had Totilas for four or five years before competing him like this, and I didn't expect it would come together so soon.  Our last indoor competition was at Olympia (in London) in December and he (Undercover) was so hot there.  You need to have a hot horse to do a great test, but you have to be  able to handle it and today I had a good feeling so I could let him go and do it, he was  much more relaxed" he pointed out.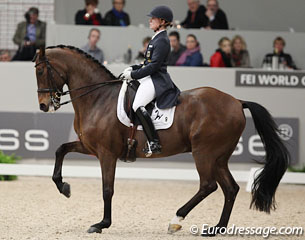 Isabell Werth was well-pleased with her horse's performance. "Johnny is always quite powerful, but he is still developing and I'm very happy with him. What Edward says is true, you have to deal with the power and the temperament, but my horse is still just 10 years old and when he plays in the right way he's perfect!" she insisted.
In Context 
Ground Jury President, Francis Verbeek van Rooij, put it all in context when she said "for us judges it was an exciting afternoon. For me personally I couldn't say after Edward's test who was in the lead and in the end Adelinde finished just ahead of him.  These riders are riding the Freestyle test on the music really well, and I congratulate them all" she added.
Frank Kemperman, Sports Director for Indoor Brabant and Chairman of the FEI Dressage Committee confirmed that the nine leading riders on the Western European League 2012/2013 leaderboard have now qualified for the Final next month.  They are, in the following order,  Kristina Sprehe (GER), Valentina Truppa (ITA), Edward Gal  (NED), Helen Langehanenberg (GER), Isabell Werth (GER), Patrik Kittel (SWE), Tinne Vilhelmson Silfven (SWE), Anna Kasprzak (DEN) and Marcela Krinke Susmelj (SUI).  Defending champions, Cornelissen and Jerich Parzival, are automatically qualified.
"We have to wait another week or so before some of the other leagues are over so we can finalise the start-list, but I believe we can look forward to a wonderful World Cup Dressage Final in Gothenburg in a few weeks' time!" Mr Kemperman pointed out.
Facts and Figures: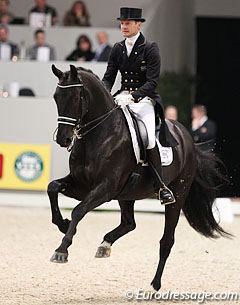 Today's Freestyle competition at 's-Hertogenbosch was the eighth and final qualifying round of the Reem Acra FEI World Cup™ Dressage Western European League series.
This was the first time for defending champion, The Netherlands' Adelinde Cornelissen, to perform her new Freestyle floor-plan which she calls "Tribute to my Red Knight".
Following today's final qualifier, the top 9 riders on the Western European League leaderboard have earned a place at the World Cup Dressage 2013 Final which will take place in Gothenburg, Sweden from 24-28 April.
Defending champion and today's winner, The Netherlands' Adelinde Cornelissen, is automatically qualified with Jerich Parzival.
This weekend's Dutch event also marked the retirement of Anky van Grunsven's Salinero who, during his sparkling career, twice won Olympic gold .
Between 1995 and 2008 the Dutch rider dominated the FEI World Cup™ Dressage series with 9 victories over that 13-year period.
This is the 28th season of the FEI World Cup™ Dressage series, and the third season of sponsorship by New York fashion designer Reem Acra who recently committed to a further three years of support.
In yesterday's preliminary Grand Prix competition, Adelinde Cornelissen and Jerich Parzival produced a winning margin of 1.362 percentage points over Dutch colleague Edward Gal with Glock's Undercover while Germany's Isabell Werth and Don Johnson FRH finished third.
The panel of judges for today's Ground Jury was : At E, Katrina Wuest (GER), At H, Hans Christian Matthiesen (DEN), At C, Francis Verbeek van Rooij (NED), At M, Jacques van Daele (BEL) and at B, Adriaan Hamoen (NED).
by Louise Parkes
Photos © Astrid Appels - No reproduction allowed
Related Links
Scores 2013 CDI-W 's Hertogenbosch
Eurodressage Coverage of the 2013 World Cup Season