2013 Danish Warmblood Stallion Licensing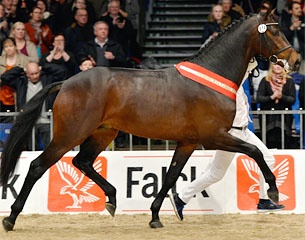 Despite fewer stallions presented at the pre-selections this year the quality of the young stallions did not at all suffer from the financial crisis at the 2013 Danish Warmblood Stallion Licensing held in Herning, Denmark on 6 - 10 March 2013. The quality of the dressage colts has lived up to the high level in recent years, whilst the quality of the jumper colts is considerably improved.
Five premium jumping stallions and four premium dressage stallions were in the running to become champions.
Once again a son of Blue Hors Zack took the dressage champion title and this 3-year-old stallion is an example of the golden cross with Blue Hors Don Schufro as dam sire. With his modern type and elastic movements Blue Hors Zee Me Blue, bred by Stald Ringsbo, was a very natural choice for the champion title.
Cantolar, the German born Canstakko-son from Katrinelund and Paul Schockemöhle, was named champion of the jumping stallions. He stood out as a top modern and large-framed sport type and achieved 9 for technique and 9 for capacity.
Ready for the 10-days observation test
For the first time the 3-year-old stallions were shown under a rider in Herning to be checked in for the 10-day observation test which takes place at Vilhelmsborg directly after the stallion licensing.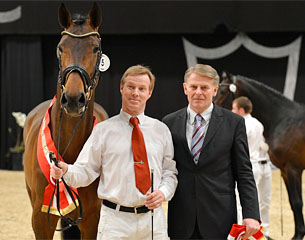 "When we see that the stallions accept a rider we are ready to check them in for observation. They are ridden very lightly and they do exceptionally well after such hard days in Herning," explained the licensing committee.
All thirteen approved jumping stallions were checked in and each and everyone behaved well and willingly under rider. The dressage stallions were equally cooperative, and thirteen of them were checked in for the observation test.
The main purpose of the 10-day observation test prior to the breeding approval is to test the temperament and to eliminate stallions with enheritable stereotypes, respiratory problems etc. The stallions will not be scored but merely evaluated, and passing the test ensures them a breeding approval this year. The result of the 10-day observation test will be published in ten days.
Dressage champion colt
Blue Hors Zee Me, by Blue Hors Zack x Blue Hors Don Schufro
Jumping champion colt
Cantolar, by Canstakko x Singular Joter
Dressage premium stallions
Atterupgaards Seebach, by Sandro Hit x Caprimond
Vincent Maranello, by Blue Hors Zack x Blue Hors Future Cup
Bøgegårdens Santiago, by Soliman De Hus x Wesley
Jumping premium stallions
Balou, by Balou du Rouet x Landcapitol
Bøgegårdens Chacco-Lido, by Chacco-Blue x Calido I
Svalebos Cellestin, by Chellys Z x A-dur
Quin, by Verdi x Corrado I
Related Links
Heartbeat, Danish Stallion of the Year 2013
Svalebo's Cellestin, Price Highlight of the 2013 Danish Warmblood Spring Auction
Zick Flower Wins 2013 Danish Warmblood Young Horse Championship
Friendly Duel Puts Dressage in Focus at 2013 Danish Stallion Licensing