2013 Danish Warmblood Stallion Licensing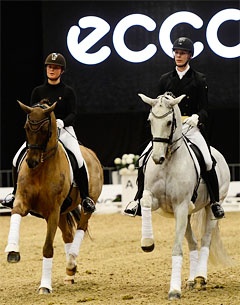 More than 2,200 spectators were gathered to see talented dressage horses and listen to experienced riders debate scoring with skilled judges. The clinic was setup as a friendly duel between riders and dressage judges.
Teamed up on one side was Per Skjaerbaek, rider, trainer and stallion owner, together with Andreas Helgstrand, dressage rider, trainer and horse dealer. On the other side was a team of two very experienced dressage judges, Kirsten Søgaard and Susanne Baarup.
Andreas started out with an easy ride on the 4-year-old stallion Sezuan. According to Susanne Baarup this horse really has it all; outstanding gaits and super temperament, and Andreas did not disagree. While riding he joked about how judgemental the attitude from the media and judges can be concerning a super talent like Sezuan.
Six young horses of different capacity and talent were presented one after the other, and the rider team challenged the judges to give scores and to motivate their scores. International judges Kirsten Søgaard and Susanne Baarup had no problem in commenting on how they assessed the horses' gaits and the movements.
- Judges always talk their way out of everything, Per Skjaerbaek joked.
The riders and horses were provided by Helgstrand Dressage, so Andreas Helgstrand refrained from giving distinct comments in the first instance, but left the scoring to Per Skjaerbaek. The horses shown in the first part of the clinic were all young horses aged 4 to 6 years. The two teams were quite clear in their opinions and comments.
- We always look at the movements and gaits with the training scale in perspective, said Kirsten Søgaard.
In the second part of the show the spectators got to see how you build up the upper level movements and how to make a high-scoring freestyle. The Olympic rider Anna Kasprzak worked one of her upcoming Grand Prix horses and explained how she trains and what to remember from day to day.
- Make your plan but do not dwell on bad things. Be prepared to move forward, adjust your plans according to your horse and enjoy the small steps forward, were some of Anna's advice.
At the end of the show Daniel Bachmann Andersen gave a full Grand Prix programme with the mare Donna Silver, while Susanne Baarup gave live scores and commentary. Eventually, Anna and Daniel spontaneously performed a pas de deux to the standing ovations from the ecstatic audience.
-- DVB Press release
Related Links
Dressage in Focus at the 2013 Danish Warmblood Stallion Licensing
Talented Youngsters in Spring Auction at 2013 Danish Warmblood Stallion Licensing