Finnish Dressage News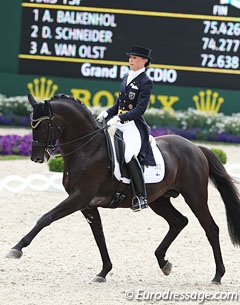 Finnish Grand Prix rider Terhi Stegars and her employer Tanja Kayser of A Bis Grand Prix in Luxembourg have acquired the ownership over Stegars' Grand Prix horse Axis TSF.
The 14-year old black Trakehner stallion Axis TSF was bred by Ewald Hartmann and licensed in Neumünster in 2001. At the stallion auction that year he was bought by Sian Prosser-Reade, who put him up for stud with Gerard Gerling in Northern Germany.
In early 2002 Gerard introduced Terhi to Axis. She trained the 3-year old Axis for the remainder of the year before he was leased to the Brandenburger State Stud for the 2003 breeding season. Subsequently Axis moved to England to Sian Reade's stables until the summer of 2005 when Sian arranged for him to travel back to Germany to be re-united with Terhi and they have been together ever since.
Terhi picked up where they had left off, resumed training and in 2008 the pair's hard work paid off. The 8-year old Axis began competing at Prix St Georges level and in 2009 they moved to Grand Prix level and won silver at the 2009 Finnish National Championships.
After running her own independent dressage stables in Germany for 10 years Terhi relocated to Luxembourg in September 2010 to become the manager and head rider for the A bis Grand Prix stables owned by the Kayser family. With the teams' support she has been able to increase her focus on international competitions. The duo made its nternational Grand Prix debut in 2011 and competed at the 2011 European Championships in Rotterdam, where they finished 25th individually. They were alternates for the 2012 London Olympics.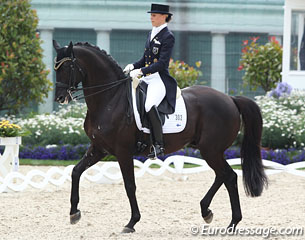 Terhi and Axis TSF owe their success not just to the support of the A bis Grand Prix team at home but also to the trainers that they have worked with, namely Kyra Kyrklund, Richard White and Hans Riegler. Recently Axis and Terhi have been placed at several World Cup qualifiers and in order to secure the pair's competitive future, Terhi together with the Kayser family purchased Axis TSF from Sian Prosser-Reade.
"The A bis Grand Prix team now looks forward to the current competitive season, specifically the European Championships,' Stegars told Eurodressage.
Photo © Astrid Appels
Related Links
Finnish Terhi Stegars Relocates to Luxembourg
Le Rouge, Axis, Insterburg Shine at 2008 German Trakehner Championship