Eurodressage F.O.C.U.S.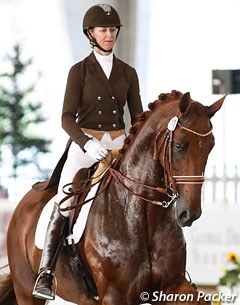 Entering the arena a foot above most of her competitors, American rider Heather Blitz knows the unique challenges of training a 183 cm standing athlete! Aboard her gigantic powerhouse gelding Paragon (by Don Schufro x Pari Lord), Blitz launched herself to the top echelon of U.S. dressage, becoming the U.S. Olympic team alternate last year.
Despite his greatness, the long legged Paragon is more than a gentle giant. "Paragon is just a big puppy dog. He loves to work and to be the big man in the stable," Blits told Eurodressage. "He is also very into people. As a foal, as soon as he could stand, he wanted to come up to me and the others visiting him in his paddock, rather than caring much for his mother.  He's always loved attention, and is a big ham."
Beginning her career in the Western riding world, Heather quickly realised that style was not for her and felt there was something else on horse back that would capture her attention. "Where I grew up the only thing to do competitively with horses was Western riding," said the Kansas born Heather. "The Western was fun but it was never really interested me, so I tried jumping, and again I didn't get drawn in. The minute I tried dressage, I was hooked!"
Describing her giant dressage partner as "pretty chilled out," Heather has noticed that the older the horse gets, the hotter he becomes, but luckily he also has a bigger than average personality. "He is obviously very unique in his size, but also in his work ethic and talent. He flows and moves more uphill than any horse I've ever had or know of," she said.
Sired by Don Schufro out of a Pari Lord mare, Paragon was bred at Oak Hill Ranch in Folsom Louisiana, at the same time Heather was working at the property. "I asked them to make that breeding just for me, and they did," Heather reminisced.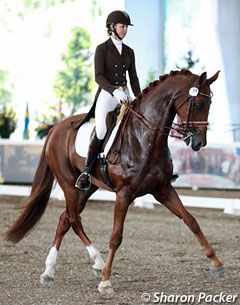 The rider admits that she needed to be very patient with Paragon in the beginning and that the training has not always been straightforward. "We had to take our time for him to develop enough strength to do the things he has been wanting to do since he was a baby, she said. "It just takes longer for big horses to fill out and become strong enough."
Making self-carriage the first and foremost part of his training, Heather found that such a big horse needs to be even more focused on balance than the averaged sized dressage horse. "He must be totally in balance to deal with his weight and coordination in a fair way. I never forced him into a connected frame as a young horse unless I felt he had the time to balance first."
Heather's challenge once she started competing the confident Paragon was trying to create that extra spark. "Once we reached Grand Prix level the difficulty was getting him "nervous" enough! He's a very easy going horse with no stress in his life for the most part. If he's a little stressed, the piaffe is easier," she explained. "So I have to figure out how to get him more on the edge in the arena. He's just too relaxed!"
The challenge of training a large framed and tall horse is not to overschool it. To make sure she does not overface her horse, Heather only trains Paragon once a day and then takes him out once for hand walking.  "He also gets about 3 hours of pasture time every day," she said. "I don't do much differently before a show than in my regular training, other than going through parts of the GP test each day, for about a week, before an event."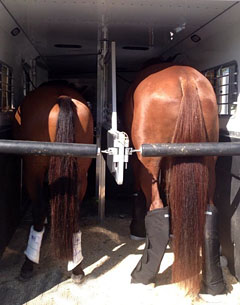 Named as the US alternate for the London Olympics, Heather knows they were so close to making it and feels that it would have been great if the pair had been called up. "We are just happy now to concentrate on our 2013, with some CDI competitions here in Wellington this season. Then, after the end of April, we will be looking into new accommodations for the summer and on."
Unfortunately Heather lacks the finances to compete in Europe, as she believes this would be the ideal training environment to set her up for the future. "Training in Europe is what I would like to do with Paragon this year, as I think that would best prepare us for next year's WEG qualifiers," she confessed.
However, until the bank balance allows it Heather will remain in the US and continue training with Mary Wanless who she has been with for the past 20 years. "I will continue to benefit from her genius in biomechanics, even if it's only every so often. I only get to see her about 2 times a year when she travels from the UK to the US and other than that, I train on my own.
The 6-foot tall Blitz prefers to ride bigger horses and believes that big horses are not a disadvantage, nor are they more prone to injury, as long as you ride them appropriately. "Paragon, at 18 hands (183 cm), and me at my height, are a great match. I also like a horse that really fills up the arena," she concluded.
by Sarah Warne for Eurodressage
Photos © Sharon Packer - private
Related Links
U.S. Olympians Konyot and Blitz Return to the Show Ring
Heather Blitz and Paragon Named 2012 U.S. Olympic Team Alternates
Heather Blitz and Paragon Top Scorers in 2011 Palm Beach Derby Small Tour
Heather Blitz and Paragon Score Double Victory at 2011 Gold Coast Opener CDI-W