British Warmblood Breeding News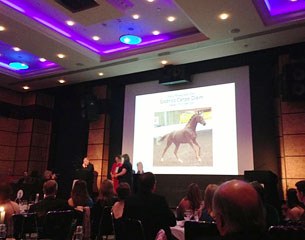 Saturday 12 January 2013 saw the breeders of the top British horses from around the country converge in London for the annual Breeders Awards Ceremony,organised by the British Horse Foundation at the Grange City Hotel. Top equestrians whose performances contributed to our glorious summer of sport, and the breeders who produced these talented home breds, were celebrating in style.
Guests arrived at the Competition Stallions-sponsored drinks reception before moving on to a sumptuous four-course dinner followed by the hugely entertaining after dinner speaker, international horse shipper, Kevin Needham. We then moved swiftly on to the greatly anticipated Awards ceremony.
Recipients ranged from breeders of best of the youngsters in the 2012 Futurity and on to the best British bred young horses in the three main disciplines. One of the regular highlights of the dinner is the South Essex Insurance Brokers (SEIB) Meritoire which is not announced until the evening, and long-time breeder, trainer of both horses and people and international rider David Pincus of Sheepcote Stud enjoyed his moment in the limelight saying.
"I was very pleased to receive this award on behalf of Sheepcote Stud, where we made the decision some years ago to ride and compete only home-bred horses, which in itself brings it limitations, but also its rewards and it is satisfying that it has been noticed we do quite a good job", David continues, "To breed one grand prix horse is an achievement, but to breed three or four as we have at Sheepcote, it is a big achievement for our family".
Award winners included both professional and amateur breeders alike. On the big stud end of the scale Lynne Crowden of Woodlander Stud and Sarah and Alice Oppenheimer from Headmore Stud collected young horse awards from British Dressage for their acclaimed horses Woodlander Farouche and Headmore Wimoweh respectively. Woodlander stud also took home a number of Futurity awards. Brendon Stud's Shirley Light took home another young horse award from British Showjumping for her talented mare Sussex Caretino.
In contrast, several small breeders, breeding just one or two horses a year had a very successful night as well. In town to receive their awards were Aram Gregory who bred the yearling futurity award winner, Timolin and Sharon Bishop who bred Parkfield Quintessential, the 4-year old British Eventing Young Horse Award winner.
Selected from many worthy winners of the Horse & Hound Outstanding Mare Award were Jon and Julie Deverill for Waldfee, dam of dressage superstar, Half Moon Delphi, who was justifiably recognised by Horse & Hound, the sporting disciplines and the Dinner Committee who selected her.
The British Equestrian Federation Olympic Award to the Highest Placed British Bred Horses in Equestrian Team GB at the Olympics went to, Tripple XIII, bred by his rider, Ben Maher, Miners Frolic, bred by Maurice Pinto and ridden by Tina Cook and Opposition Buzz, bred and owned by Rosemary Search and ridden by Nicola Wilson.
This packed and entertaining evening also recognises the achievements of former racehorses in the UK. South Essex Insurance Brokers and Retraining of Racehorses once again sponsored the valuable Elite Performance Awards at the dinner for the best former racehorses now competing in showing, dressage, eventing, showjumping and endurance.
For full results, see data sheet here.
Related Links
British Breeders Celebrate Success at 2012 British Breeders' Award Ceremony
British Youth Rider Samantha Brown Combines Dressage and Breeding at Leamside Equestrian
Generous Gift to Help Educate British Young Breeders