Swedish Dressage News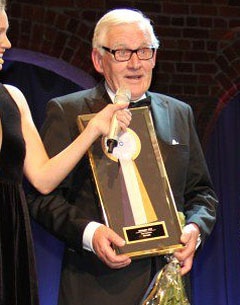 Eric Lette and Michelle Hagman were the two dressage award recipients at the 2012 Swedish Riders Gala held on Wednesday 28 November 2012 at the beautiful statuesque Stockholm town hall.
Dressage riders and breeders were remarkably less awarded at this year's Riders Gala, where honorary awards are given to the best performing riders, horses and breeders of the year. This year especially the show jumping and eventing riders and horses took centre stage.
The 27-year old Michelle Hagman was the named "Tomorrow's Star in Dressage", an award given to the most promising Swedish Grand Prix rider of the year.  Hagman is based near Berlin, Germany and stood out with her performances aboard the Trakehner Rudi's Memory (by Gribaldi). Despite having limited means, Hagman has worked her way up to the top and is now member of the Swedish Grand Prix squad.
The KWPN bred Zircoon Spring Flower was named "Tomorrow's Star Horse in Dressage". The 2004 born bay gelding (by Painted Black x Armstrong) is bred by T. Verhoeven, owned by Antonia Ax:son Johnson and ridden by Jennie Larsson. This horse was one of Sweden's best 6 and 7-year olds and has made a winning transition to Prix St Georges level. He won 4 out of 11 shows and is now ready to make the transition to Grand Prix.
The "Honorary Prize" of the year was awarded by Queen Silvia of Sweden to former O-judge Eric Lette. "I am overwhelmed. I thought maybe I would be the Comet of the or Tomorrow's Star," Lette joked. "I have some young horses that will go Grand Prix next year." Eric Lette is officially retiring as a judge and will be sitting on the panel for one last time at the 2012 CDI-W Stockholm this weekend. He will stay actively involved with the sport though.
Source: Ridsport
Photos © Swedish Equestrian Federation
Related Links
Ax:son Johnson, Lexner, Isac Honoured at 2012 Swedish Riders' Gala
Cecilia Dorselius Nominated to Become 2011 Comet of the Year
Kittel, Telde, Hofmann Honoured at 2010 Swedish Riders' Gala
Larsson, Vilhelmson and Paridon Magi Win at 2009 Swedish Riders' Gala
Brink and Karlsson, Award Recipients at 2008 Swedish Riders' Gala