2012-2013 KWPN Stallion Competition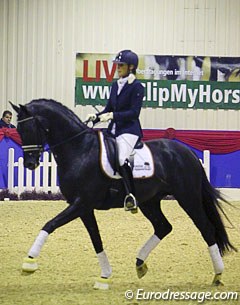 The first leg of the 2012-2013 KWPN Stallion Competition circuit kicked off today 27 November 2012 at the equestrian centre in Deurne, The Netherlands. The 4-year old Dream Boy, 5-year old Charmeur and 6-year old Bordeaux aced their divisions and set the pace at the beginning of the show circuit.
Gerdine Maree and the 4-year old black stallion Dream Boy (by Vivaldi x  Ferro) totalled 86.5 points to claim victory in the L-level division, which featured five horses in total. Emmelie Scholtens and the KWPN Performance test winner Desperado (by Vivaldi x Havidoff) were second with 84 points, while Spanish Severo Jurado Lopez and Diego (by Negro x Don Gregory) landed a third place with 82 points.
Judge Johan Hamminga commented that Dream Boy was "perfectly presented. He was ridden to the hand on the most natural way, which enables the stallion to show his movements optimally. He beat Desperado because of his hind leg usage." Desperado could have had more length in the front according to the judge.
Six horses were lined up for the M-level competition for 5-year olds. KWPN Performance test winner Charmeur (by Florencio x Jazz) topped the leader board with an 88.50 score. The muscled chestnut stallion was quite tense but the judges praised him for his self carriage and expressive gaits.  Mirelle van Kemenade-Witlox and the bay Cachet L (by Jazz x Ferro) followed in second place on 80 points, while Severo Jurado Lopez and the dark bay Chippendale (by Lord Leatherdale x Negro) slotted in third with 74.50 points.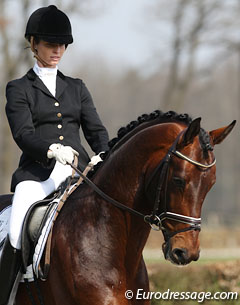 In the Z-level division four 6-year old stallions participated in the class. German Eva Möller steered the bay KWPN licensing champion Bordeaux (by United x Gribaldi) to victory with 88,5 points, taking a massive lead on the second place horse. The combination stood out with their correct execution of the movement and the horse's suppleness.  Kirsten Beckers and the bay Bristol (by Jazz x Goodtimes) were the runners-up with 78.000 points. Lisanne der Nederlanden and Breezer (by Johnson x Sultan) were third with 74.50 points.
Judge Hamminga commented that Bordeaux showed "a very appealing test in which the stallion stood out with his three good gaits and expression in movement. The stallion was very well presented and is showing much talent for the heavy work."
Photo © Astrid Appels
Results - 2012-2013 KWPN Stallion Competition - Deurne
L-level
1. Gerdine Maree - Dream Boy (by Vivaldi x Ferro) - 86.50
2. Emmelie Scholtens - Desperado (by Vivaldi x Havidoff) - 84.00
3. Severo Jurado Lopez - Diego (by Negro x Don Gregory) - 82.00
4. Diederik van Silfhout - Don Tango (by Contango x Jazz) - 80.50
5. Emmelie Scholtens - Dorado (by Krack C x Lotus) - 80.00
M-level
1. Emmelie Scholtens - Charmeur (by Florencio x Jazz) - 88.50
2. Mirelle van Kemenade - Cachet L (by Jazz x Ferro) - 80.00
3. Severo Jurado Lopez - Chippendale (by Lord Leatherdale x Negro) - 74.50
4. Tom Franckx - Charmingwood (by Winningmood x Contango - 74.00
5. Diederik van Silfhout - Cover Story (by Oscar x Corleone) - 72.00
6. Evert de Jong - Chagall (by Jazz x De Niro) - 70.00
Z-level
1. Eva Moller - Bordeaux (by United x Gribaldi) - 88.50
2. Kirsten Beckers - Bristol (by Jazz x Goodtimes) - 78.00
3. Lisanne der Nederlander - Breezer (by Johnson x Sultan) - 74.50
4. Astrid Langeberg - Bodyguard (by Gribaldi x Negro) - 67.00
Related Links
Chippendale, Bon Bravour, and Apache Win 2011-2012 KWPN Stallion Competition
Bon Bravour, Amazing Star and Zhivago Win 2011 KWPN Stallion Competition Finals