2012 CDI Oldenburg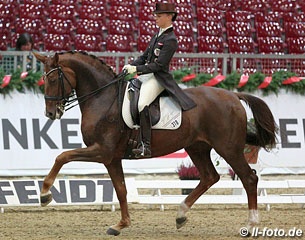 At her second international event aboard her latest acquisition Blind Date (by Breitling W x Donnerhall), Austrian Victoria Max-Theurer swept the board in the Grand Prix and Special with scores of 73.191% and 75.022%. The 27-year old multiple Austrian Grand Prix champion now has a strong second iron in the fire for the international show circuit.
""Beate" went really well," Max-Theurer commented after the Grand Prix. "We would have got a few more points if I hadn't messed up the two's. But our connection is really got and if we get to know each other even a bit more, I will be able to ride her 'blindly'."
German photographers Maria Burczyk and Lars Lewandowski were in Oldenburg on Grand Prix day and captured these photos.
Photos © LL-foto.de
Related Links
Scores 2012 CDI Oldenburg
Max-Theurer Invests in Wittig's Blind Date