2012 Portuguese Dressage Championships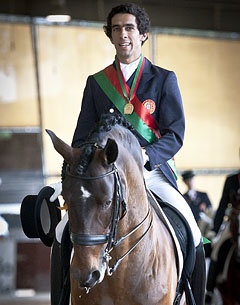 After a successful conquest at the 2012 Olympic Games in London, Portugal's number one Grand Prix reaffirmed his top status in his country by winning the 2012 Portuguese Dressage Championships for the second time in his career since 2010. The National Championships were being held at the at Sociedade Hípica Portuguesa in Lisbon, Portugal on 2 - 4 November 2012.
Gonçalo Carvalho and Christine Jacoberger's Lusitano licensed stallion Rubi (by Batial) were unteachable in all three Championship rounds. They won the Gran Prix with 72%, the Special with 71.46% and the Freestyle on Sunday with 77,98 to finish on an average of 73.81%. Rubi was briefly sidelined last month due to a small injury and the nationals were the horse's first show again since the Olympics. In the freestyle he became a bit hot in the piaffe.
After winning the national title, Carvalho was incredibly thankful to Rubi's owner Christine for her dedication and commitment. "It is really easy to work with people like (Christine) who are simple, honest, serious and understand horses," said Gonçalo.
The silver medal went to Filipe Canelas Pinto on the 13-year old Hanoverian bred Der Clou (by De Niro x Herzzauber), who produced solid rounds in the Grand Prix (70.02%) and freestyle (74.73%) but a small set back in the Special (66.56%).
This enabled bronze medal winning Maria Caetano to stay on Canelas' heels throughout the championship. Caetano and her grey Lusitano stallion Xiripiti (by Qualificado x Moscatel) scored 69.55% in the Grand Prix, 68.06% in the Special and 72.98% in the Kur.
Only five Portuguese riders in total completed the three championship rounds at the Nationals.
Photo © Ana Escoval
Results - 2012 Portuguese Grand Prix Championships
1. Gonçalo Carvalho - Rubi - 72,00 - 71,46 - 77,98 ---- 73,81
2. Filipe Canelas Pinto - Der Clou - 70,02 - 66,56 - 74,73 ---- 70,44
3. Maria Moura Caetano - Xiripiti - 69,55 - 68,06 - 72,98 ---- 70,20
4. Jorge Miguel Santos - Sardo - 67,28 - 65,79 - 71,48 ---- 68,18
5. Miguel Ralão - Regalo - 64,98 - 64,00 - 69,03 ---- 66,00
6. Raquel Falcão - Real - 64,43 - 62,00
7. Daniel Pinto - Xelim - 65,15
8. Maria Pais do Amaral - Trancos - 64,91
9. Daniel Pinto - Xam - 64,68
Related Links
Scores: 2010 Portuguese Dressage Championships
Maria Caetano, 2008 Portuguese Grand Prix Dressage Champion
Miguel Ralão Duarte, 2007 Portuguese Dressage Champion