Swedish Dressage News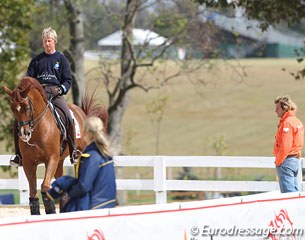 Swedish Olympic team dressage rider Patrik Kittel and his long-time coach Sjef Janssen have announced that they will be parting ways. Kittel rode his horse Scandic to 2011 European kur bronze under the tutelage of Janssen.
"Due to more and more commitments of my own and Sjef wanting to have only a few students so that he has more time for his family, we have made the mutual agreement not to train together anymore," Kittel explained.
The 62-year old Sjef Janssen has been recovering from brain surgery, which he underwent in November 2011. The Erp based trainer has been struggling with a quick rehabilitation, which has taken away much of his energy and fitness. Janssen has been cutting back on his training duties and recently resigned as Dutch team coach. He is now focusing on training German Matthias Rath with his string of horses at his home in Holland.
"I have learnt a lot form Sjef and we had some really succesful times," Kittel said. "I will now search for another trainer untill then Lyndal will be my eyes on the ground. Sjef and his wife Anky remains close friends with us on a personal level."
Kittel and his wife, Australian Olympian Lyndal Oatley, live in Appelhulsen, Germany, where the couple manages a training and sales facility.
"Sjef was a great trainer but I will train now a bit on my own and Lyndal will look in-between," Kittel told Eurodressage. "When the time is right and itt fits I will for sure have someone helping me. Time will tell. Untill then i keep on riding and enjoy my wonderful life."
Photo © Astrid Appels
Related Links
Sjef Janssen Successfully Operated On
Lyndal Oatley and Patrik Kittel: Partners off the Horse, Rivals on It
Kohl Family and Kittel Part Ways, Salzgeber to Ride Donna Unique
Patrik Kittel Hitting the Big League with Scandic