2012 Danish Young Horse Championships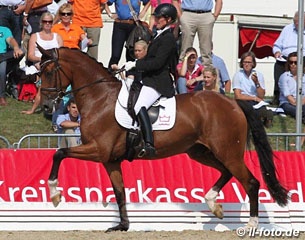 The Danish equestrian federation has announced the combinations which have qualified to compete at the 2012 Danish Young Horse Championships held at the 2012 CDI-W Odense on October 2012. Seventy horses in total in the three age categories are eligible to compete at the Finals.
Twenty-six 4-year olds, twenty two 5-year olds and twenty-two 6-year olds made the cut. Eight of those qualified 5 and 6-year olds obtained their selection by competing for Denmark at the 2012 World Young Horse Championship in Verden.
The qualified pairs are:
4-year olds
Andreas Helgstrand - Zonik (by Zack x Romanov) - 9.460
Maria Anita Andersen - Svalegards Hottie (by Hotline x De Noir) - 9.140
Silje Bakken- Tailermade Attention (by Abanos x Camaro) -  9.120
Thomas Lassen  - Loriot (by Londontime x His Highness) -  9.000
Lotte Skjærbæk - Safir (by Skovens Rafael x Aston) - 8.980
Stine Døssing - Lehmann's Lilo (by De Noir x Midt West Ibi Light) - 8.980
Maik Kohlschmidt - Thuzack (by Zack x Latyrus) -  8.920
Michael Grønne Christensen - Don Matcho WI (by Don Schufro x Munchhausen) - 8.800
Lone Bang Larsen - Lupin (Prinz K3 x Louvre) - 8.700
Christoffer Dalby Haugaard - Smedegardens Lexi (by Sir Donnerhall x Ragazzo) - 8.600
Silje Bakken - Tailormade Ralph Lauren (by Skovens Rafael x A Dur) - 8.580
Simone Lunding-Hoppe - Shiraz Majlund (by Sunny Boy x Hertug) - 8.560
Allan Uglsøe Grøn - Don Olymbrio (by Jazz x Ferro) - 8.540
Matthias Tourbier - Pria Enshoj (by Prinz K3 x Aleksander) - 8.520
Sofia Nelzon - Delicious (by Don Schufro x Midt West Ibi Light) - 8.500
Thomas Lassen - Daidalos (by Dancier x Lauries Crusador xx) 8.480
Simone Kühle Pedersen - Sarkozy (by Hofrat x Don Schufro) - 8.400
Marie Louise Andersen - Romantic Venture (by Don Romantic x Michellino) - 8.360
Steen S Blicher - Cleophas Kazmir (by Wilkens x Solos Carex) - 8.360
Per Skjærbæk - Freezbee Pari (by Firenze x Akinos) - 8.360
Lars Bækgaard - Norregards Denzel (by Don Romantic x Lucky Light) - 8.360
Mads Rom - Zig Zag (by Zack x Don Schufro) - 8.360
Mette Riisager - Don Alinero Lykkedal (by Don Romantic x Lillemarkens Arkibal) -  8.340
Sophie Christensen - Lissau's Galicia (by Gribaldi x Weltmeyer) - 8.320
Allan Uglsøe Grøn - Zaigon (by Zack x Furst Heinrich) - 8.320
Tenna Abel Larsen  Rio H (by Skovens Rafael x Dutchmann) - 8.300
5-year olds
Andreas Helgstrand - Mollegardens Pas Partout (by Don Primero x Camaro) - 9.160
Didde Marie Thekilde - Agardens Chanel (by Sandro King x Zardin) - 8.740
Rikke Dupont - Sion (by Sir Donnerhall x Sevillano xx) -8.660
Anna Blomgren - Bogegardens Boney M (by Belissimo M x Worldly) - 8.520
Andreas Helgstrand - Sir Caramello (by Sir Donnerhall x Feiner Stern) - 8.500
Maria Anita Andersen - Cavanillas W (by Florett As x Donnerhall) - 8.480
Bettina Laisbo - Ropoix (by Don Romantic x Tenor) - 8.440
Andrea Woodard - Donna von Wald (by Don Romantic x Waldsohn) - 8.420
Maria Anita Andersen - Katholt's Bossco (by Don Schufro x Michellino) - 8.400
Bettina Laisbo - South West Rocazino (by Don Romantic x Latimer) - 8.400
Camilla Qvistgaard - Lacroze Selsoe (by Buddenbrock x Kostolany) -  8.360
Jessica Greelish- Cavalia (by Sir Donnerhall x Gribaldi) - 8.340
Dorthe Rohmann - Noosa Melody (by Don Romantic x Schwadroneu) - 8.320
Andrea Woodard - Wilkinson (by Wolkenta zII x Lord Liberty) - 8.320v
Carina Reslow Krüth - Rbinho (by Romanov x Don Schufro) - 8.260
Michael Grønne Christensen - Holballes Deeba (by De Noir x Resident) - 8.180
Margit Ørum - Klosterhedens Zelecktion (by Zorro Son x Midt West Ibi Light) - 8.140
Lone Fischer Sneistrup - Marika Dancer (by Diamond Dancer x Marengo) - 8.140
John Hvalsøe Saul  - Sirikit (by Hotline x Don Schufro) - VERDEN
Michael Grønne Christensen - De Negro WI (by De Noir x Munchhausen) - VERDEN
Marianne Yde Helgstrand - Schakiro Pilekaer (by Don Schufro x Ferro) - VERDEN
Sanne Henningsen - Supermarn W (by Sunny Boy x Sidney) - VERDEN
6-year olds
Maria Anita Andersen - Bentley (by Belissimo M x Weltmeyer) - 8.500
Andreas Helgstrand - Don Primeur (by Don Primero x Castrot) - 8.480
Anna Blomgren - Star Agent (by Sandro Hit x Argentinus) - 8.400
Mads Rom  - Dark Knight (by Don Crusador x Cheenook) - 8.380
Sanne Henningsen  - Lorenzo (by Lord Loxley x Rubin Royal) - 8.380
Anette Ejlersgaard - Deep Love (by Depardieu x Donnerhall) - 8.260
Minna Telde - UNO Samantha (by Shepard Hit x Donnerhall) - 8.240
Anna Blomgren - Rosenstolz (by Rotspon x De Niro) - 8.220
Lone Bang Larsen - Madonna Askelund (by De Noir x Pari-Ace Dant) - 8.200
Helle Wibe - Mollegardens Sunrise (by Sunny-Boy x Camaro) - 8.160
Jens Østergaard - Atterupgaards Final Kiss (by French Kiss x Diamond) - 8.160
Sune Laust Hansen - Carso Ni (by Carson Ask x Leendert) - 8.100
Annette Toft - Red Rose (by Royal Blend x Warkant) - 8.080
Morten Andersen - Petersborg's Suleima (by Sir Oldenburg x Midt-West Ibi-Light) - 8.060
Mikaela Lindh  - Skovlunds Gamin (by Gagarin x Saint Cloud) - .040
Michael Grønne Christensen - Samaron (by Samarant x Rotspon) - 8.020
Susie Juhl - Carmens Zefyr (by Zardin x Hertug) -  8.000
Anna Kasprzak - Stenkjers La Fayette (by Solos Landtinus x Schwadroneur) - 8.000
Laura H. P. Mølvig - Atterupgaards Wolfgang (by Welt Hit II x Lord Sinclair)
Andrea Woodard Hojersmindes Rolex (by Romanov x Don Schufro)
Thomas Sigtenbjerggaard - N.O.H.'S Daijoubo (by Daddy Cool x Picandt)
Jim Rasmussen - Samba King (by Sandro King x Lancet)
Related Links
Danish Horses Selected for 2012 World Young Horse Championships