2012 British Youth Riders Championships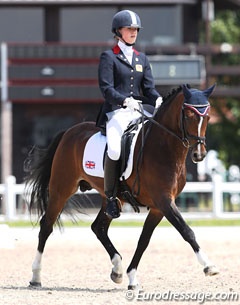 Many of the UK's leading young dressage riders converged in Lincolnshire for the British Pony, Junior and Young Riders Championships held on 20 – 25 August 2012. With no less than 40 classes from preliminary to advanced, including FEI Pony, Junior and Young Rider tests, the show delivered six epic days of top competition for these talented young riders.
Amy Woodhead, 20, riding the German bred 15-year-old stallion Pardon, successfully defended her title in the Young Rider Championship, the results of which are determined by the combined score of the Team and Individual tests. This result was a close call, as second-placed Eilidh Grant and Comanche Crumble, a 16-year-old British mare by Cassander, finished on the same mark of 69.26%. Amy however edged ahead on collective marks to secure the title for the second consecutive year.
The FEI Junior title went to Georgia Davis and the 9-year-old gelding Richman's Manta, a combination which was unbeaten in all three junior classes contested. Georgia, 16, from Swanmore, Hampshire achieved a combined score of 68.64% to take the title ahead of Joanna Thurman-Baker and Highcliffe Apollo on 68.26%.
Charlotte Fry,16, from Driffield, North Humberside, was victorious in the FEI Pony Championship with Andexer, Rosemary Shewen's 10-year-old stallion with whom she was selected for the 2010 Pony Europeans. They won both the Team and Freestyle tests. The Pony Individual Test
was won by Rose Hugh-Smith with Holsteins Derwisch on a great score of  71.22%.
The winners:
PSG/Inter I/Inter II/GP
Eilidh Grant with Comanche Crumble, 70.26% (Inter I)

FEI Pony Prelim Test
Angus Corrie-Deane with Cadman Stellata, 60.25%

FEI Junior Prelim Test
Georgia Davis with Richman's Manta, 70.00%

FEI Young Rider Prelim Test
Eilidh Grant with Raphael Rosse, 67.68%

FEI Pony Team Test
Amber Barton with Doctor Little, 70.34%

FEI Junior Team Test
Georgia Davies with Richman's Manta, 68.65%

FEI Young Rider Team Test
Eilidh Grant with Comanche Crumble, 71.84%

FEI Pony Individual Test
Rose Hugh-Smith with Holsteins Derwisch, 71.22%

FEI Junior Individual Test
Georgia Davis with Richman's Manta, 68.62%

FEI Young Rider Individual Test
Amy Woodhead with Pardon, 70.09%

FEI Pony Freestyle to Music
Charlotte Fry with Andexer, 76.75%

FEI Junior Freestyle to Music
Joanna Thurman-Baker with Highcliffe Apollo, 77.50%

FEI Young Rider Freesyle to Music
Eilidh Grant with Comanche Crumble, 77.50%
FEI Pony Championship
Charlotte Fry with Andexer, 69.65%

FEI Junior Championship
Georgia Davis with Richman's Manta, 68.64%

FEI Young Rider Championship
Amy Woodhead with Pardon, 69.26%
Text by British Dressage
Photo © Astrid Appels
Related Links
2012 British Youth Riders Championships Underway
Williams, Knapton, Woodhead Win 2011 British Youth Riders Championships
Harris, Bates, Cartwright, 2007 British Youth Rider Champions