2012 Pavo Cup Finals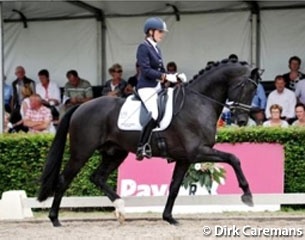 Desperado and Charmeur have taken a strong lead by winning the 2012 Pavo Cup semi-finals which are held at the KWPN Paardendagen in Ermelo, The Netherlands. Today the semi-finals are taking place to determine the group of horses that can move on to the Finals on Thursday 16 August 2012.
In the 4-year old division Emmelie Scholtens and the KPWN licensed stallion and performance test winner Desperado (by Vivaldi x Havidoff) ruled the pack  with 88 points. She kept all competition at bay as the second placed horse Diva (by Vivaldi x Gribaldi), the KWPN licensed stallion Diego (by Negro x Don Gregory) as well as Dundee M (by Lord Leatherdale x Sandro Hit) tied with 85.5 points.  The 2011 KWPN elite mare reserve champion Dolly (by Ziesto x Osmium) ranked fifth.
In the 5-year old division Emmelie Scholtens took a firm lead aboard the KWPN licensed stallion and performance test winner Charmeur (by Florencio x Jazz). The bright chestnut, who is bred by the late legendary Huub van Helvoirt,scored 93 points in total thanks to a 10 for trot. Dinja van Liere steered the black Capri Sonne (by Rhodium x San Remo) to a second place with 88 points, while Mirelle van Kemenade and the bay licensed stallion Cachet L (by Jazz x Ferro) were third with 86 points. Scholtens and the Canadian owned Hanoverian Connaisseur (by Conteur x Donnerhall) ranked fourth with 85 points, while Fransje van der Meer and the gelding Casper (by Westpoint x Goodtimes) completed the top five with 85 points.
Next Thursday the 2012 Pavo Cup Finals took place. The horses will appear in the arena in groups of two to be judged by the panel. The three highest scoring horses will be test-ridden by German Eva Möller to decide the champion.
Photo © Dirk Caremans
Results - 2012 Pavo Cup Semi-Finals
4-year olds (top 20 only - complete scores here)

1. Emmelie Scholtens - Desperado (by Vivaldi x Havidoff) - 88
2. Corina Verbocht - Diva (by Vivaldi x Gribaldi) - 85.5
2. Sharon Loeffen - Dundee M (by Lord Leatherdale x Sandro Hit) - 85.5
2. Severo Jurado Lopez - Diego (by Negro x Don Gregory) - 85.5
5. Jessica Buying - Dolly (by Ziesto x Osmium) - 85
6. Jose van Haaren - Darcy CL (by Jazz x Junior) - 84.5
7. Severo Jurado Lopez - Landsdale (by Lord Leatherdale x Wallstreet) - 83
8. Judith Ribbels - Dolcevendy (by Lord Leatherdale x Jazz) - 82
8. Lotte Jansen - Dynton (by Wynton x Krack C) - 82
8. Gerdine Maree - Dream Boy (by Vivaldi x Ferro) - 82
11. Emmelie Scholtens - Dorado (by Krack x Rousseau) - 81
12. John Tyssen - Dude (by Vivaldi x Havidoff) - 80.5
13. Emmelie Scholtens - Don Tango (by Contango x Jazz) - 79.5
14. Cindy van Vugt - Double Trouble (by Jazz x Ferro) - 78.5
15. Jessica Nijpjes - Devil Diamond N (by Florencio x Flemmingh) - 78
16. Astrid Langeberg - Didando (by Tuschinski x Jetset D) - 77.5
17. Laura Zwart - Dylan (by Vivaldi x Jetset D) - 77
17. Kirsten Brouwer - Dancer (by Vivaldi x Tango) - 77
17. Jana Freund - Dark Pleasure (by Ufo x Jazz) - 77
20. Mandy Dokter - Djack Johnson (by Johnson x Roman Nature) - 76.5
20. Jose van Haaren - Diementa Cl (by Tuschinski x Rousseau) - 76.5
5-year olds (top 20 only - complete scores here)
1. Emmelie Scholtens - Charmeur (by Florencio x Jazz) - 93 points
2. Dinja van Liere - Capri Sonne (by Rhodium x San Remo) - 88 
3. Mirelle van Kemenade - Cachet L (by Jazz x Ferro) - 86
4. Emmelie Scholtens - Connaisseur (by Conteur x Donnerhall) - 85.5
5. Fransje van der Meer - Casper (by Westpoint x Goodtimes) - 85
6. Hans Peter Minderhoud - Vitalis (by Vivaldi x D-Day) - 84
7. Geert Jan Raateland - Crsp B (by Vivaldi x San Remo) - 82
8. Severo Jurado Lopez - Chippendale (by Lord Leatherdale x Negro) - 81
9. Thamar Zweistra - Charon (by Rubiquil x Havidoff) - 80.5
9. Annieta Klip - Chinook (by Vivaldi x Havidoff) - 80.5
11. Kim Huysmans - CC Strider (by Son de Niro x Ulster) - 80
12. Jenny Schreven - Chocolate Cookie (by Johnson x Livingstone) - 78.5
12. Jonna Schelstraete - Chicago MH (by Vivaldi x Montecristo) - 78.5
14. Anne Lehmann - Clever (by Flemmingh x Goodtimes ) - 78
14. Kirsten Brouwer - Chantieni (by Jazz x Cabochon) - 78
14. Willem Jan Schoote - Citho (by Johnson x Florestan) - 78
14. Vai Bruntink - Chardonnay (by Winningmood x Flemmingh-) - 78
18. Jose van Haaren - Catapult (by Jazz x Ferro) - 77.5
18. Seth Boschman - Sir Charlie Chaplin (by Sir Donnerhall x Purioso) - 77.5
18. Lobke de Jong - Cirano (by United x  Jazz) - 77.5
18. Stephanie Peters - Cennin (by Vivaldi x Donnerhall) - 77.5
Related Links
Cashmir Excels at 2012 Pavo Cup Qualifier in Hartpury
Charmeur and Borencio Win 2011 Pavo Cup Finals