2012 Olympic Games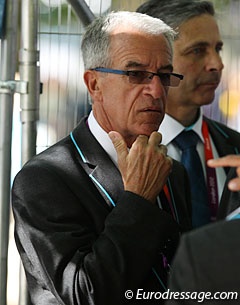 Entering the final phase of the London Olympic dressage spectacular USA's Gary Rockwell will be fired up and ready to watch what is produced when art and music unite. "What makes the kür special? Horses make people better people and music takes people to a higher place. The combination is the kür."
Growing up with a love for animals Gary got into horses not for sport, but for the relationship he could create with these amazing animals.
"Later I became interested in jumping, and whilst I was at college I went to a well known jumping rider from Europe for lessons, only to be told that I didn't ride well enough to jump," Rockwell admitted. "This kick started my dressage career, and I suppose I never did become good enough to jump.   Rumor has it, though, that she told all incoming students the same, because she didn't want the expense of additional insurance to cover jumping." 
Encouraged to become a judge by the USA's premier "S" judge, Edgar Hotz, Gary had avoided judging for some years until he had an injury and was forced to take some time out of the saddle.
"Without an excuse to put it off any longer, I became a judge. I must have been a judge for more than 20 years before I made it to international level."
One of just four 5 star judges in the USA (Linda Zang, Axel Steiner, and Anne Gribbons) Rockwell has been picked twice as USA representative at an Olympic Games and he says the quality in London is just outstanding!
"I also judged in Hong Kong and I have to say the quality of the horses and riding this year is remarkable. Not just one or two, as in the past, but now in the qualifier for the final, the top 18 horses are all over 73%." 
Taken not only by the fantastic conditions, Gary is also delighted to be welcomed by so much support and enthusiasm.
"London is one of my favorite cities to begin with, but the people here, especially the volunteers, have been so friendly, kind, and helpful. It's really heartwarming! If you ask for something, instead of saying "no", they say "I'll see if I can make it happen for you"."
With the kür kicking off tomorrow morning Gary will take his seat at F and can't wait to see what will unfold in the arena. "I can't even speculate over what to expect in the kür tomorrow, but I'm sure it will be a thrilling competition," he said. 
Having judged the GP and the Special earlier this week, Rockwell explained that there are several elements which makes the kür more difficult or complex from a judge's viewpoint.
"The kür is still a technical test and all of the aspects of the Grand Prix have to be addressed as in a straight test.  The artistic marks depend greatly on the technical performance.  Probably no aspect is more difficult generally, but the execution of particular movements and its relation to the music can present a different consideration for each horse."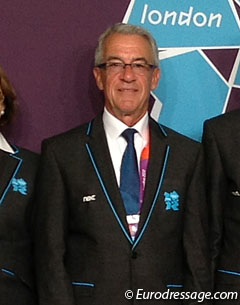 And what makes a horse and rider really standout in the KUR?
"Of course the choreography and the suitability of the music are basic, but I would say that harmony is what makes interpretation of the music and the execution of the movements outstanding."
Looking forward to his position, no matter where it is around the arena, Gary does admit that some seats are a tad more tiring than others.

"No doubt about it. All of the judges have the best seats in the house! It's one of our few perks. We are so accustomed to moving from seat-to-seat, it really doesn't matter to me. Each position has a different perspective and for some movements, a different responsibility. But, for the 2-days of GP, I was at "C" and that position entails watching the course, the time (we are duly impressed with the importance of that here), as well as the dreaded responsibility of eliminating horses for reasons of unsoundness, blood, ongoing resistance, etc. At the end of the 2 days, I felt like I'd been mugged."
Watching the best in the world take to the arena, Gary says the excitement doesn't make him want to compete in dressage, but it does put fire on the old horse loving flame.
"It makes me want to get out of the box and pick up a curry comb and a shovel.  Four years ago I bought a filly foal and I plan to get back to regular riding again.  I don't think I will compete again, at least not at international levels, but above all else I love horses and I love riding."
Hanging up his Olympic judges hat after London, Gary will continue judging, but hopes to spend more time doing what he loves.
"I want to begin shifting my time more toward riding, teaching and training."
by Sarah Warne for Eurodressage
Photos © Astrid Appels
Related Link
Eurodressage On the Scene at the 2012 Olympic Games