2012 Olympic Games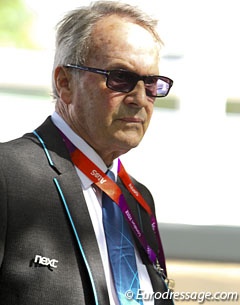 Viewing the London Grand Prix dressage from a very special position David Hunt and his two Judging Supervisory Panel colleagues made sure the results were undeniably accurate!
"There was no need to replay any of the amended movements. All the judges agreed with the corrections, as in most cases they felt slightly uneasy about the mark in question, and were so relieved to know that we were there to back them up," says David Hunt.
Using video play back and all angle views, the panel can see exactly how the movement was performed, without being restricted by certain angles or bad light.
"For example if the judge at C is watching a horse coming directly towards him, given the horse is straight, he can only see the front legs. This makes it incredibly difficult for this judge to catch a mistake in the changes."
While there were "quite a few things to change" during the two days, David says the majority were due to the position of the judge and most commonly in regards to the flying changes.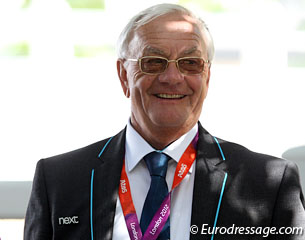 "In the meeting afterwards there was no request to replay video footage as evidence. The judges were very acceptive and appreciative of the result!"
Describing the level as "brilliant" David added that the three-man JSP team worked extremely well and  knowing each other so well has helped create an efficient JSP.
"From all viewpoints, judges, riders and spectators, this system is the best way to ensure fairness. If you are watching from the stands and you see a mistake as clear as day, it is unfair that a judge's angle should allow the error to go unpenalised. This way the audience and the riders know that the test produced will be given the marks as accurately as technologically possible."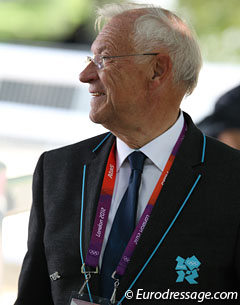 Using tennis to illustrate the effectiveness of such a system David says that the slow motion play back in this sport is now a VITAL part of the game.
"How many times is it needed and used to correct a poor decision!"
And as for the winning duo? "Charlotte and Valegro were just fantastic. I think confidence is what really gave them that extra edge. She has been with the horse for so long and I also think her showing background helped a lot. Showing is often criticised, but it is a discipline that fosters presentation and perfection. It is a strict sport and a rider learns to present themselves and their horse and to produce a confidence that draws attention."
There were certainly no arguments there!
Text by Sarah Warne for Eurodressage
Photo © Astrid Appels
Related Link
Eurodressage On the Scene at the 2012 Olympic Games