2012 Olympic Games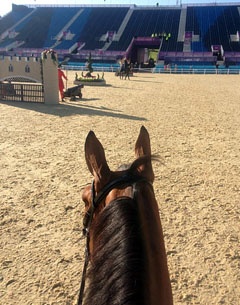 While thousands of spectators gathered at Greenwich park to watch the spectular cross country, the second phase for the eventers at the 2012 Olympic Games, the dressage riders were able to inspect the main stadium for the first time early this morning. With the gigantic stands on three sides of the ring and jumps in the stadium, the dressage horses were impressed by the sight.
As everything is run in a very tight schedules teams were grouped together and got slots of only 15 minutes to scout the main stadium.
Belgian individual Claudia Fassaert was one of the first to go into the main stadium at 6.15 AM !! With a shuttle taking about an hour to get from the Olympic village to the show grounds, the early bird certainly caught the worm. Fassaert had to get up at 4 AM.
The Dutch went in at 7 AM. Adelinde Cornelissen only walked her 15-year old Parzival. "I rode him around very relaxed and only walked," Cornelissen told Horses.nl. "It's important he feels relaxed in the main ring and that's why I don't work him too hard. He has to have the feeling that it's a place where he can relax and that's what he did. I deliberately rode past the point where a few of the eventers spooked, but Parzival didn't care. Of course the situation will be different on Friday when I really have to ride as last to go for The Netherlands, because then the arena will be packed with people and there will be a dressage ring."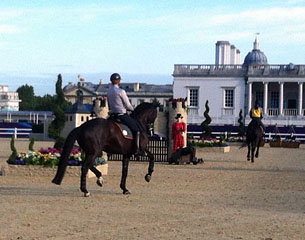 Canadian Ashley Holzer reported she "had a great ride on Edward today. It is a lot of fun here. Great atmosphere with tons of people on the cross country course! Go Canada Go!"
The Danish team has been based at Kristina Rausing's yard near Windsor and they all moved to Greenwich on the weekend.  Anna Kasprzak is one of the youngster dressage riders at the Olympics at age 22. She wrote "it's great to be here and be part of something big like this."
Danish Nathalie zu Sayn-Wittgenstein told Ridehesten that she has been "playing around with Digby in training. The most important thing for him is that he is positive and happy." Nathalie took Digby out on the canter track around the park. "It was a good decision to give him a competition break in winter, he has deserved it," said Nathalie, who stated that Digby is super motivated in his work now.
Danish team trainer Rudolf Zeilinger has been spoilt for choice this year with several riders contesting a team spot. "It is a luxury problem which Rudolf had this years, but it is clear that it has not been easy to make the final decision. For us, it increases the competitive fire within us, and we know we have to train and be on our toes to make the team. It is healthy," said Nathalie.
U.S. Team Technical Advisor Anne Gribbons told Dressagedaily that "our dressage horses are settled in, and they are looking good and working well. Tomorrow is vet check, and then we have one day before the start of the Grand Prix. Weather threatens to rain every day, but the cool temperature works for our horses and they are nicely fresh."
Related Link
Eurodressage On the Scene at the 2012 Olympic Games