2012 Olympic Games
If you had asked earlier in the year who was the horse to beat in London, you may have mentioned a well known black stallion, a horse whose name evoked pure "Uphoria"! But as we approach the final ticks of the London clock, horses like Parzival, Mistral Hojris, Damon Hill, Valegro and Carl Hester's Uthopia, have blown the line up for gold wide open. Even with the "Born this way" black record breaker Totilas out of the running, the dressage competition has never been hotter!
Leading the British team in their defeat against long time German and Dutch world dominators in Rotterdam, Carl Hester rode bareback as a means of transport until he was 16 and is now on track to lead his team in a host nation victory!
"I am from the tiny 'Island of Sark' in the Channel Islands. There are no cars on the island, and so the only mode of transport is by horse...or tractor," says Carl. "I didn't sit in my first saddle until I was 16 years old."
Carl, who has ridden at international level for more than two decades and taken out the British title a staggering 51 times, achieved a personal best score of 82.568% on his mount Uthopia, a horse Carl says has always been special.
"From the first time I rode him I knew he was special. He was just like a rubber ball, with so much bounce in both the trot and the canter," says Carl. "Uti (Uthopia) is a small, black pocket rocket. He is 10 year old and a real show model with a leg at each corner. He has always been 100% easy, never posing any problems throughout his career. His only issue is that when you turn him out in the field he does love to try and hug you with his front legs at the same time."
Charlotte Dujardin, who is trained by Carl at his Newent yard in Gloucestershire, followed in her master's footsteps, and recently broke the world record for the Grand Prix Special with an outstanding 88.022 perfect.
"For the last couple of years a lot of my inspiration has come from helping Charlotte," says Carl. "And riding my horse, I'm inspired everytime I get on. I suppose this year I did feel the pressure for the first time in my career, bearing in mind that expectations have grown for the British Team so much in the last few years. However like most riders the pressure disappears when on board."
With all eyes on the British team for London, Carl says the gold medal will come down to preparedness and a little bit of luck.
"The three best horses need to remain sound and the three riders need to be ready. The British team is on top at the moment due to our great support behind the scenes, not only with funding from UK Sport, but also from the background team, which incorporates a wide range of knowledge. This has been built on in the last few years and covers every aspect to make a successful team."
Naturally, the riders also need to be focused, and Carl's riding ability, he says, comes from his attention to detail and, of course, hard work.
"My strengths are that I am fanatical about detail. I would rather stay at home and practice than go on long holidays, and I am patient with my horses," says Carl. "In terms of weaknesses, I need to be driven to win. I tend to be too laid back and enjoy my ride whatever. I could also do with not being the last to leave a party the night before a big ride!"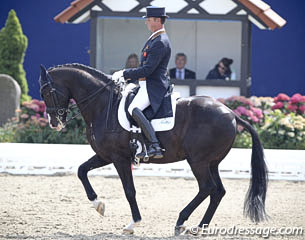 To qualify for the Games, Carl maintained a focused training regime with a few key objectives in mind.
"I just try to keep my training methods similar. I look at dressage as a form of gymnastics, which includes stretching, collecting, bending and straightening. These things are always at the forefront of my mind," says Carl. "I work the horses in the arena on a Monday, Tuesday, Thursday and Friday. They will hack for 20 minutes and do 20 minutes stretching before I get on. With Uti I will probably do about 30 minutes work training square halts and straight lines. Wednesday and Saturdays they all go on long hacks, including Uti, with plenty of hill work. The horses are turned out daily in the afternoons and on Sundays."
Stressing the importance of a bond between horse and rider, Carl agrees that to compete on such an elite level, riders need to know their horses, in and out of the saddle.
"Of course I think the horse and rider need to have a special relationship," says Carl. "Uti and I have been the very best of friends for six years now."
The horse, according to Carl, has no weaknesses, but his greatest strength is his temperament, which certainly would have helped Carl achieve his life goal of training horses to the top.
"Success for me is producing a horse to the top and the best piece of advice I have ever been given is to train MY horse MYSELF."
Carl's advice for inspiring young riders is to try and base yourself with a top rider and learn the trade inside out.
"Start by training a horse you can afford - there are many two and a half year olds out there well under the £5k price – which is where I started."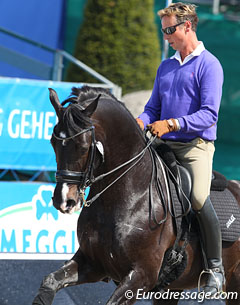 As far as riding goes, Carl has always loved to watch Isabell Werth ride, but when asked where he'd be if his life hadn't been focused on horses?
"I'd be the Front of House, in a top class hotel," says Carl.
His biggest regret, Carl says "That's not a question!", and he "never regrets anything", but knows that even the world's top riders face tough challenges, like losing their friend of six years.
"Uti's owner has always said I could have the horse for London and then he will be sold," Carl admits. "So after much champagne, a few tears and weeks of depression, I will have to start thinking about producing my next one."
But for now, Carl is enjoying his 'Utopia' at the top of world dressage, and the whole of Britain will surely share Carl's pride when he takes the centreline in just a few days time in London.... miles away from his first ride to the village shop on the local donkey.
Text by Sarah Warne for Eurodressage.com
Photos © Astrid Appels
Related Link
Eurodressage On the Scene at the 2012 Olympic Games