2012 Bundeschampionate Qualifier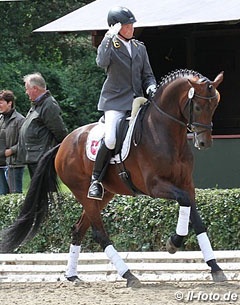 The 5-year old Don Darius and 6-year old Richthofen reigned supreme in the Bundeschampionate qualification classes held at the 2012 Hanoverian Regional Championships in Hanover, Germany, on 12 - 15 July 2012. No less than 27 combinations gathered in Hanover to contest the L and M-level dressage horse classes.
Mike Habermann and the Hanoverian bred Don Darius (by Don Frederico x Markus Deak xx) topped the leader board in the L-level dressage horse test for 5-year olds. He scored an overall mark of 8.3 after having received 8 for trot, 8.5 for walk, 9 for canter, 7.5 for submission and 8.5 for general impression. Sandra Frieling and the Hanoverian Don Noblesse (by Dancier x Don Davidoff) were second with 8.1. This pair received 8.5 for trot and canter, 7.5 for walk, 8.5 for submission and 8.0 for general impression. Anna Sophie Fiebelkorn and the Trakehner Montafon (by Cadeau x Herzzauber) were third with 8.0.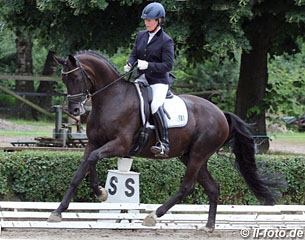 Canadian Leonie Bramall and her Hanoverian gelding Richthofen (by Royal Blend x Wolkentanz I) was the winner of the 6-year old division and sole combination to score 8.0 or above. Bramall won the class with an overall 8.0 after having scored 8 for trot, 7.5 for walk, 8.5 for canter, and 8 for submission and general impression. Magdalena Priesier and the Holsteiner gelding Le Douzieme (by Lorentin I x Romino) were the runners up with 7.4. The duo achieved 7 for trot, 8.5 for walk, 7.5 for canter and 7 for submission and general impression.
Photos © LL-foto.de
Results - 2012 BuCha Qualifier - Hanover
5-year olds
Judges: Bockler, Oetjen
1. Mike Habermann - Don Darous - 8.30
2. Sandra Frieling - Don Noblesse - 8.10
3. Anna Sophie Fiebelkorn - Montafon - 8.0
4. Carolin Miserre - Don Ricaro - 7.6
5. Stefan Blanken - Serafina - 7.4
6. Jan Dirk Giesselmann - Haya - 7.2
6. Jan Dirk Giesselmann - Locaccino - 7.4
6. Katrine Kraglund - Limbo Rock - 7.2
6. Angelica Bystrom - Lord - 7.2
10. Mariette Bertram - Smooch - 7.1
10. Manuel Bammel - Dakira - 7.1
12. Mike Habermann - Red Pearl - 7.0
12. Kerstin Rottering - Sostenuto - 7.0
12. Iris Schmeminowski - Hot Light - 7.0
15. Alvaro Osborne Diez - Solera - 6.9
16. Friederike Oppermann - Dirk - 6.8
16. Dirk Seewald - Keanu - 6.8
16. Wenke Tewes - Shirinus - 6.8
19. Claudia Bertram - Hot Summer - 6.6
19. Theresa Wahler - Feuerspiel - 6.6
19. Yvonne Reiser - Strahlemann - 6.6
22. Anna Maria Kopke - Hemingway - 6.4
23. Elisa Bertelmann - Dreamy H - 5.8
Andreas Homuth  Diego en Suerte MT - ELI
6-year olds
Judges: Ebert, Gunia
1. Leonie Bramall - Richthofen - 8.0
2. Magdalena Preisler - Le Douzieme - 7.4
3. Sascha Bohnke - Furst Royal - 7.3
3. Carolin Miserre - Duzfreund - 7.3
5. Ina Friedrich - Danzarina Negra - 7.2
5. Hans Dieter Mangelsdorf - Donna Doria - 7.2
7. Andrea Siebel Schon - Weisel - 7.1
8. Mareike Kostens - Wilde Orchidee - 7.0
9. Anneke Fryen - Davino - 6.9
10. Leonie Bramall - Sterndeuter - 6.8
11. Lena Berwe - Delbar Estivale - 6.6
11. Anna Katharina Neumann Cosel - Killy Willy - 6.6
Anna Sophie Fiebelkorn - Royal Classic - ELI
Back to the 2012 Bundeschampionate Index