Dominican Republic Dressage News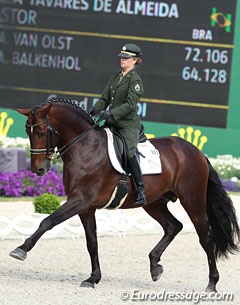 The Dominican Republic Equestrian Federation and Yvonne Losos de Muñiz have lost their appeal at the Court of Arbitration for Sport in Lausanne, France. Luiza Tavares will remain to be the Latin American individual representative at the 2012 Olympic Games. 
The Caribbean federation appealed the FEI Tribunal´s decision, which ruled that the FEI Dressage Committee had granted a valid exception in 2010 for all CDI*3s and below outside Europe to have only two foreign judges instead of three and that this exception remained valid during the Olympic Qualification Period. Therefore, according to the FEI Tribunal, the CDI*3 Events organised in Brazil in 2011 and 2012 were properly organised under FEI rules and Luiza Tavares is the rightful Olympic representative for the Central and Latin American region.
The Dominican republic will issue a full statement later this week, but Muniz told Eurodressage that, "the FEI did their utmost best to ensure we had no chance to participate in the Olympics, which is very dissapointing for us. It's clear that small nations with limited resources will probably always be at a disadvantage."
Photo © Astrid Appels
Related Links
Dominican Republic NF Appeals with CAS over FEI Tribunal Decision
FEI Tribunal Rejects Protest Dominican Republic Equestrian Federation