2012 World Championships for Young Dressage Horses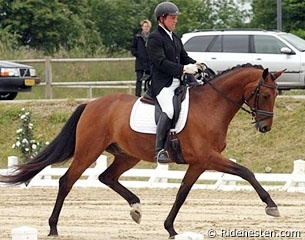 At the last selection event in Denmark, fourteen more horses qualified for the official Danish selection trial for the 2012 World Young Horse Championships in Verden, Germany, on 1 - 5 August 2012. The Danish warmblood society organized three qualification days at which Danish bred horses could earn points to qualify for the official Danish WCYH selection event to be held in Middelfart on 29 June - 1 July 2012.
The third and final selection day also took place in Middelfart on the weekend of 16-17 June 2012. Foreign based riders with Danish horses were also able to submit videos to the Danish selectors in order to obtain selection for the big qualification event.
At the Middelfart trial Møllegårdens Pas Partout (by Don Primero) won the 5-year old division with top scores. Ridden by Andreas Helgstrand, Pas Partout earned 9.5 for trot, 9.2 for walk, 8.8 for canter, 9.4 for potential and 9.5 for rideability. His overall total was 9.28. In the 6-year old division, Helgstrand's assistant trainer Thomas Sigtenbjerggaard won the class with N.O.H.'s Daijoubo (by Daddy Cool). The combination earned 8.7 for trot, 8.6 for walk, 8.5 for canter, 8.4 for rideability and 8.6 for potential. His overall total is 8.56.
The Middelfart qualified horses are:
5-year olds
Schakiro Pillekaer (by Don Schufro x Ferro) - Marianne Yde Helgstrand
Sobakkehus Mia Bella (by Don Schufro x Midt West Ibi Light) - Dorthe Sjobeck Hoeck
Cibon (by Churchill x Casir ASK) - Lars Baekgaard
Noosa Melody (by Don Romantic x Schwadroneur) - Dorthe Rohmann
Superman W (by Sunny Boy x Sidney) - Sanne Henningsen
Mollegardens Pas Partout (by Don Primero x Camaro) - Andreas Helgstrand
6-year olds
UNO Samantha (by Sherpard Hit x Donnerhall) - Thomas Lassen
Hojersmindes Rolex (by Romanov x Don Schufro) - Andrea Woodard
Samba King (by Sandro King x Lancet) - Jim Rasmussen
Ramonchell (by Don Romantic x Schwadroneur) - Sophie Christensen
Atterupgaards Final Kiss (by French Kiss x Diamond) - Jens Ostergaard
NOH's Daijoubo (by Daddy Cool x Picandt) - Thomas Sigtenbjerggaard
Fabrix Miss Esandri (by Sandro King x Quilted xx) - Fie Skarsoe
Vemmetofte Roscoe (by Romanov  x Stravinsky xx) - Andrea Woodard
Photo © Ridehesten
Related Links
Eurodressage Coverage of the 2012 World Young Horse Championships
Nine Horses Selected at Second 2012 Danish WCYH Qualifier for Verden
Eight Horses Selected at First Danish 2012 WCYH Qualifier for Verden