2012 Bundeschampionate Qualifier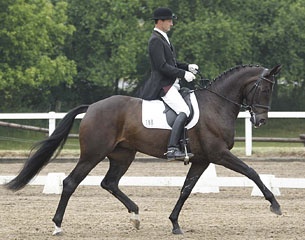 The 5-year old Solitaire became the winner of the 5-year old Bundeschampionate qualification class held at the big regional foal and dressage competition hosted at Ira Denkhaus' Gestut Kempke Hof in Plaaz, Germany on 15 - 17 June 2012. Fourteen 5-year olds competed in the L-level class to obtain a qualification score for Warendorf.
Kempke Hof's head trainer Ronald Lüders was the only rider to score high enough to earn the ticket to the Bundeschampionate. Aboard Denkhaus' Oldenburg branded Solitaire (by Sandro Hit x Rubinstein I) Luders scored a winning 8.0. Solitaire is bred by Stall Troff in Jemgum. Grand Prix rider Martina Hannover Sternberg and the Hanoverian mare Supreme Surprise (by Stedinger x Del Piero) finished second with 7.5.
Results - 2012 BuCha Qualifier - Plaaz
1. Ronald Luders - Solitaire - 8.0
2. Martina Hannover Sternberg - Supreme Surprise - 7.5
3. Jasmis Nussbaumer - Homer - 7.4
4. Ronald Luders - Santorini - 7.3
5. Marion Loew - Danccini - 7.2
6. Martina Hannover Sternberg - Royal Rosy - 6.9
6. Katharina Krauskopf - Sansolino - 6.9
8. Victor Alfonso Pomares - Biscaya - 6.8
8. Rudiger Tremp - Sarkozy - 6.8
10. Nadine Ollmann - Riviera - 6.7
11. Friederike Reinke - Devina's Day - 6.5
12. Julia Voigtlander - Syrio - 6.4
13. Doris Gortz - Lord of the Dance - 6.3
14. Victor Alfonso Pomares - Haydn - 5.7
Back to the 2012 Bundeschampionate Index