2012 Bundeschampionate Qualifier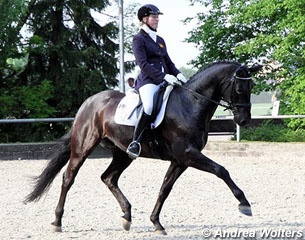 The 5-year old Lord Wallonia and 6-year old Rasputin W were the winners of the Bundeschampionate qualification classes held at Gut Haller in Kaarst-Büttgen on Friday 8 June 2012. Twenty-one horse and rider pairs gathered at this qualifier to vy for an entry ticket for Warendorf.
The Spanish Chloe Morris Talbot, who is based at Isabell Werth's stable in Rheinberg, piloted the Rhinelander bred Lord Wallonia (by Lord Loxley I) to victory in the 5-year old division. She scored a strong 8.4 and kept all competition at bay. The Krefeld based Heiner Schiergen and the Oldenburg bred Discovery (by Dimaggio) were second with 8.1. Stefanie Wittmann and the Hanoverian Rubin (by Royal Blend) were third posting a score of 7.7.
Laura Stigler and her Oldenburg Rasputin W (by Rooney) dominated the 6-year old division with a modest score of 7.8. Heiner Schiergen and the Rhinelander Lavabo W (by Lord Loxley) were the runners-up with 7.7, followed by Alexa Engel on Louidor (by Lord Loxley) with 7.6.
Photo © Andrea Wolters
Results - 2012 BuCha Qualifier - Kaarst
5-year olds
1. Lord Wallonia - Morris Talbot, Chloe  - 8.40
2. Discovery - Schiergen, Heiner - 8.10
3. Rubin  - Wittmann, Stefanie - 7.70
4. Felice  - Camp, Lydia - 7.60
5. Laurino - Louven, Nicole - 7.30
5. Reamon - Reisch, Christian - 7.30
7. Rudolfo Santo Negro - Müller-Windgassen, Susanne - 7.10
8. Wind of Change - Jansen, Stephanie -  6.80
9. Starkstrom - Heinz, Verena - 6.70
6-year olds
1. Rasputin W - Stigler, Laura  -7.80
2. Lavabo W - Schiergen, Heiner - 7.70
3. Louidor - Engel, Alexa - 7.60
4. Rio Grande - Di Pierro, Rocco  - 7.50
5. Sergio - Hein, Manuela  - 7.40
5. Sir Fashion -  Piotrowski, Juliette - 7.40
7. Fürst-Piccolos Junior -  Fütterer, Silke - 7.30
7. Diddy cool - Krafft, Paulina - 7.30
9. For my Live  - Skarsoe, Fie Christine - 7.20
10. Awakino Q'Rage- Unger, Anke -  7.10
11. Lord Münks - Reisch, Christian - 6.90
12. Rino Mo - Taverniti, Maurizio - 6.50
Back to the 2012 Bundeschampionate Index