2012 Dutch Dressage Championships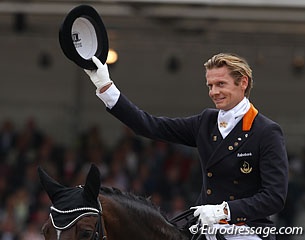 Edward Gal and the Austrian owned Dutch warmblood Undercover (by Ferro x Donnerhall) have taken an early lead in the 2012 Dutch Dressage Championships by winning round 1 - the Grand Prix - with 75.766 %. The Dutch Championships kicked off onThursday 7 June 2012 at a new venue in Hoofddorp, The Netherlands, but the Grand Prix riders did not receive a warm welcome from the weather as it poured throughout the afternoon and evening.
Despite the unwelcoming weather, the stands were quite filled for the Grand Prix. With Holland's number one Adelinde Cornelissen absent due to an unfit Parzival, team coach Sjef Janssen focused on the other Olympic candidates which presented themselves at the first of two mandatory Olympic observation trials. At the end of the day, Janssen was slightly disappointed with the results. "Edward Gal and Hans Peter Minderhoud rode very well but the rest disappointed. There were missed opportunities and to my feeling this was one of the lesser days," Janssen told the press officer of the Dutch Equestrian Federation.
As last to go Edward Gal and Undercover put in the winning ride with a 75.766 %, though his points ranged from 77.021% (De Wolff, Hamoen) to 72.979% (Mouw) with a ranking between first and fifth place. "We haven't been a combination for long, but to my feeling we started strongly," Gal commented. "I think we showed a nice piaffe and passage. After the walk Undercover became a bit strong and it was hard for me to keep him nicely in front of me. Still, I'm able to keep him at good length better and better. On the other hand this horse has little ring experience and it's no wonder we can't keep it up throughout the test. That's why a test doesn't go automatically just yet. I need to keep on thinking to prepare Undercover optimally for each upcoming movement."
Gal also finished second aboard the Danish owned Romanov (by Rohdiamant x Grundstein II) on 74.36%. "This stallion went really well to my feeling, but you need to keep in mind that this was only our third Grand Prix together," Gal commented. "The second place is a nice reward for our work."
Gal's life partner Hans Peter Minderhoud tied on second place aboard the Austrian owned Dutch warmblood stallion Tango (by Jazz x Contango). "Tango is turning into a safe horse for me. He wants to co-operate and works on the movements with more concentration," Minderhoud expained. "Of course the piaffe should and can be better but we are on the right way." Minderhoud also placed fifth aboard Silvia Rizzo's Danish warmblood mare Donna Silver (by Don Schufro x Willemoes) with 73.27% but his scores ranged from 70.958 % (Hamoen) to 74.575% (Verbeek). "She's really my type of horse, a grey version of Nadine," Minderhoud said enthusiastically about his ride. "It's great to ride competitions with her, but also a pity that I have only been riding her for such a short while. The piaffe is still very difficult for her in the show ring, but at home she has no problems with it. What I really like about her is the super canter, for which she scores high points."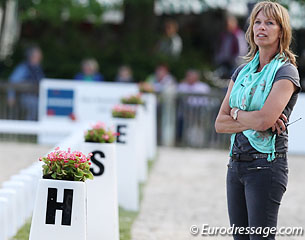 Anky van Grunsven and her 18-year old Hanoverian gelding Salinero (by Salieri x Lungau) finished fourth on 73.83% with scores between 72.660% (Mouw) and 75.319 % (Verbeek). The mileage is clearly starting to show on her senior Olympic champion, especially in the trot extensions in which there was a break in canter as well as a loss of rhythm. The sparkle for which they were once so famous was missing. Van Grunsven herself was midly hung over from the result. "I'm very disappoineted because I was confronted with a horse that started its job totally without concentration," she said. "This resulted in a few stumbles in trot. If you ask me what went well in the test, I would say 'not enough'. I had ridden Salinero in the show ring on Wednesday and he was really attentive to my aids. Tomorrow I will ride the movements of the Special in the hope of him being concentrated on Saturday. What is the cause of my disappointing performance? Maybe the lack of show routine," Van Grunsven added. Holland's most successful dressage athlete ever says that her thoughts about competing at the Olympic Games change every half an hour. "But if I really didn't want to go to London, I would have gone home already."
Imke Schellekens and her young Jazz gelding Toots performed below par as well. The horse made a mistake in the two-tempi's and stalled in the piaffe on the final centerline, which made her score drop to 73.191 % and a sixth place. "It wasn't good enough," Imke said after her test. "I missed the last piaffe and I made a counting error in the one tempi's. Toots also showed very nice things, but it all needs to be better. In comparison with the Grand Prix Special in Ermelo, I need to shift two gears."
The second round of the Dutch Championships takes place on Saturday 9 June with the Grand Prix Special, followed by the Kur to Music on Sunday. Riders with two horses can choose which one they want to take to the Kur finals. Gal stated that he will take the highest ranked horse, while Minderhoud has already confirmed to ride Tango in the Kur. Imke Schellekens will debut her new Wibi Soerjadi freestyle "Touch of Toots" on Sunday.
Quotes © KNHS
Photos © Astrid Appels
Related Links
Scores 2012 Dutch Dressage Championships
Dutch Dressage Championships Move to Hoofddorp