Hanoverian Breeding News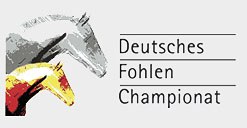 As the spring foaling season is in full swing, it automatically means that the foal shows in Germany have started. The first qualifier for the 2012 German Foal Championships took place at Hannes Baumgart's stable Schwartze Hof in Verden on 30 May 2012.
Five fillies and three colts were placed at this show. The winner in the filly division was Jochen Dittmer's 20-day old filly by Benidetto out of a Don Cavallo dam. She outranked Siegfried Pliz' Sir Donnerhall x Rotspon foal, while Stefan Blanken's Foundation x Lancier was third.
In the colt category Johann Martens' Romanov x Wolkentanz I bested the fials, while Lale Eimermacher's Royal Classic x Don Frederico became the runner-up.
The next foal show is on 5 June 2012 at Gestüt Elstertal in Moritzburg, Germany.
Results - 2012 Foal Show - Verden

Fillies
1. Benidetto out of ? (by Don Cavallo) - Breeder: Jochen Dittmer
2. Sir Donnerhall out of Rosalie (by Rotspon) - Breeder: Hann. Zuchtgestüt Siegfried Pilz
3. Foundation out of Leena (by Lancier) - Breeder: Stefan Blanken
3. Quasar de Charry out of La Piavenza  (by Lauries Crusador) - Breeder: Stefan Mügge
5. Totilas out of Waleska  (by Wordly) - Breeder:  Weber GbR
Colts
1. Romanov out of Wolke  (by Wolkentanz I) - Breeder: Johann Martens
2. Royal Classic out of Donna Felicitas  (by Don Frederico) - Breeder: Dr. Lale Eimermacher
2. Licosto out of Roxana  (by Rubinstein) - Breeder: Dr. Jim Bond
Related Link
Furstenball and Surprice Sire Champions at 2011 German Foal Championship in Lienen